Patrons dig deep at AIDS benefit (2010 05 19 上海日報)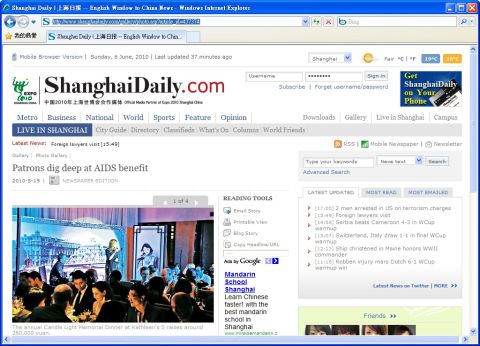 SHANGHAI business and community leaders have raised around 260,000 yuan (US$38,077) at a gala to help AIDS orphans and families affected by HIV/AIDS in Henan Province.
The annual Candle Light Memorial Dinner and fund-raiser on Saturday at Kathleen's 5 was part of a series of events around the world to commemorate people who have died from the disease. Around 160 people attended.
Proceeds will benefit the Chi Heng Foundation that runs projects in Henan for AIDS orphans and their relatives affected by the virus and disease. The foundation supports children so they can live with relatives, not in institutions.
The International AIDS Candle Light Memorial was launched in 1983 and has become the second-largest HIV/AIDS awareness day globally after World AIDS Day on December 1 every year.
Now in its fifth year, the event was hosted for the second time by journalist James Chau, China's UNAIDS Goodwill Ambassador and CCTV news reader.
Chau says this year's event demonstrated the broad community support behind helping people affected by HIV/AIDS.
"You could really see the community coming together," Chau said after the event. "There was more of a mix of both locals and expatriates and also strong corporate response."
Among the speakers was a representative of the Women's Network Against AIDS in China who spoke about her personal experiences living with people affected by HIV/AIDS.
Chau says that it was vital for people to see and talk to people with HIV/AIDS to break down negative stereotypes and assumptions about people with the disease.
"People may be aware of the issue of HIV/AIDS and even want to help but they might not be able to relate to the problem," says Chau.
"If people think about someone with HIV/AIDS as being someone's son or daughter, someone's mother or father, or someone's sister or brother and then they realize that, in fact, people affected by HIV/AIDS are not always from the margins of society but they are normal people."
Continuing support
Kathleen's 5 General Manager Franck Crouvezier says he was first inspired to launch the fund-raising effort after seeing a lack of AIDS awareness events in China.
The event has raised an average of 200,000 yuan annually for HIV/AIDS-related charities during its five years.
Crouvezier says many people who had attended previous events continue their support.
"People really want to help and they feel really good about this event," he says.
"We are going from strength to strength every year and this year it was very encouraging to see such strong corporate support. It is great to see big brands wanting to associate themselves with supporting this issue and a community event like ours."
Not only big business provided support. The event offered a range of options, from purchasing a 10-yuan raffle ticket to attending the after-party that cost just 120 yuan.
The live auction proved the biggest fund-raiser and items under the hammer included five artworks, one of which sold for 88,000 yuan.
A range of local corporate sponsors included the Puli Hotel and Spa, which offered a romantic weekend stay, and the JW Marriott, which donated dinner for eight. Both were auctioned for 15,000 yuan each.
"The live auction was fantastic, people were more generous than ever and it shows that the people who keep coming back every year are committed to the cause," says Crouvezier.
The Chi Heng Foundation was founded in 1998 and supports more than 6,000 orphans.
Some of the children it supports attended the event and staged singing and dancing performances.
The foundation uses its skills and knowledge to provide assistance at village and community levels across China and has offices in Henan, Anhui and Guangdong provinces, Beijing and Shanghai.
Translated as "wisdom in action," Chi Heng Foundation aims to ensure no child affected by AIDS is excluded and their individual needs are fully understood.
The foundation primarily pays for children's education and living expenses and all funds are delivered to schools. Rather than support orphanages or foster homes, the foundation aims to keep children with relatives.
This post is also available in: Chinese (Traditional) Chinese (Simplified)