Charity's circle of self-help opens more doors for HIV/Aids victims
(2008/08/27 SCMP)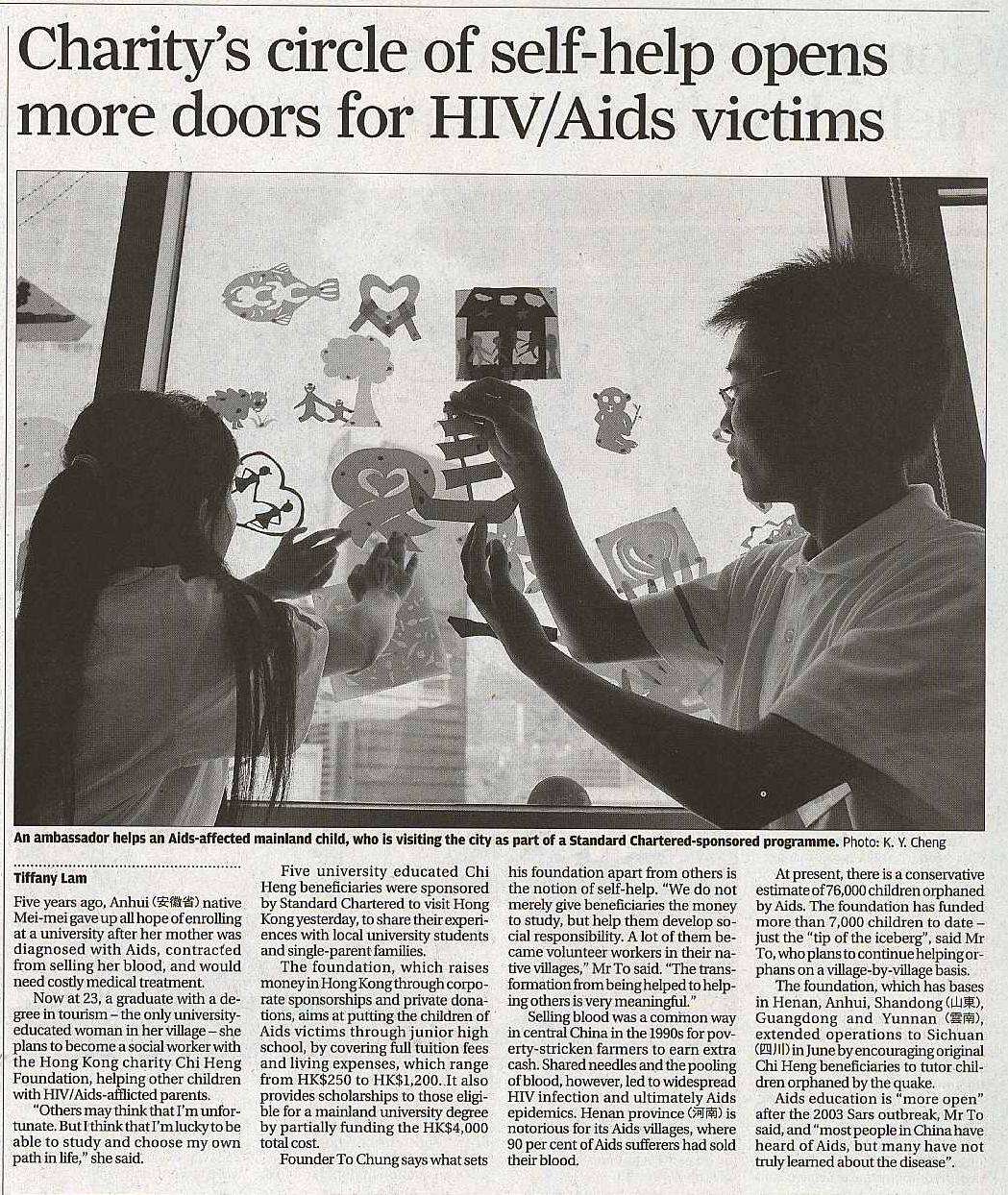 Five years ago, Anhui native Mei-mei gave up all hope of enrolling at a university after her mother was diagnosed with Aids, contracted from selling her blood, and would need costly medical treatment.
Now at 23, a graduate with a degree in tourism – the only university-educated woman in her village – she plans to become a social worker with the Hong Kong charity Chi Heng Foundation, helping other children with HIV/Aids-afflicted parents.
"Others may think that I'm unfortunate. But I think that I'm lucky to be able to study and choose my own path in life," she said.
Five university educated Chi Heng beneficiaries were sponsored by Standard Chartered to visit Hong Kong yesterday, to share their experiences with local university students and single-parent families.
The foundation, which raises money in Hong Kong through corporate sponsorships and private donations, aims at putting the children of Aids victims through junior high school, by covering full tuition fees and living expenses, which range from HK$250 to HK$1,200.
It also provides scholarships to those eligible for a mainland university degree by partially funding the HK$4,000 total cost.
Founder To Chung says what sets his foundation apart from others is the notion of self-help.
"We do not merely give beneficiaries the money to study, but help them develop social responsibility. A lot of them became volunteer workers in their native villages," Mr To said. "The transformation from being helped to helping others is very meaningful."
Selling blood was a common way in central China in the 1990s for poverty-stricken farmers to earn extra cash. Shared needles and the pooling of blood, however, led to widespread HIV infection and ultimately Aids epidemics.
Henan province is notorious for its Aids villages, where 90 per cent of Aids sufferers had sold their blood.
At present, there is a conservative estimate of 76,000 children orphaned by Aids.
The foundation has funded more than 7,000 children to date – just the "tip of the iceberg", said Mr To, who plans to continue helping orphans on a village-by-village basis.
The foundation, which has bases in Henan, Anhui, Shandong , Guangdong and Yunnan , extended operations to Sichuan in June by encouraging original Chi Heng beneficiaries to tutor children orphaned by the quake.
Aids education is "more open" after the 2003 Sars outbreak, Mr To said, and "most people in China have heard of Aids, but many have not truly learned about the disease".