Organizations respond with education, action
(2009/12/01 China Daily)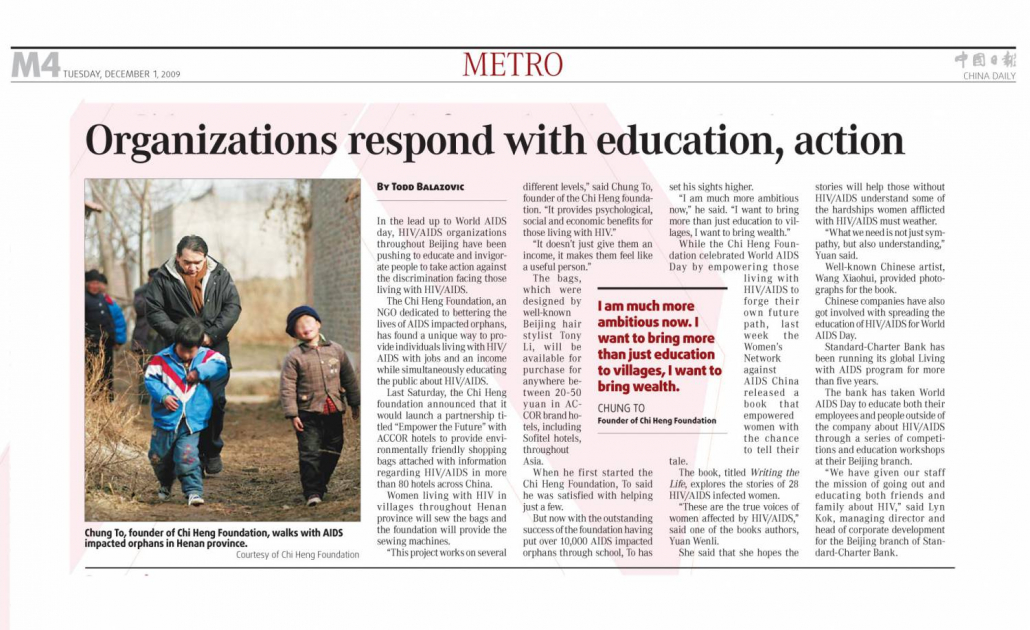 By Todd BalazovicIn the lead up to World AIDS day, HIV/AIDS organizations throughout Beijing have been pushing to educate and invigorate people to take action against the discrimination facing those living with HIV/AIDS.
The Chi Heng Foundation, an NGO dedicated to bettering the lives of AIDS impacted orphans, has found a unique way to provide individuals living with HIV/AIDS with jobs and an income while simultaneously educating the public about HIV/AIDS.
Last Saturday, the Chi Heng foundation announced that it would launch a partnership titled "Empower the Future" with ACCOR hotels to provide environmentally friendly shopping bags attached with information regarding HIV/AIDS in more than 80 hotels across China.
Women living with HIV in villages throughout Henan province will sew the bags and the foundation will provide the sewing machines.
"This project works on several different levels," said Chung To, founder of the Chi Heng foundation. "It provides psychological, social and economic benefits for those living with HIV."
"It doesn't just give them an income, it makes them feel like a useful person."The bags, which were designed by well-known Beijing hair stylist Tony Li, will be available for purchase for anywhere between 20-50 yuan in ACCOR brand hotels, including Sofitel hotels, throughout Asia.
When he first started the Chi Heng Foundation, To said he was satisfied with helping just a few.
But now with the outstanding success of the foundation having put over 10,000 AIDS impacted orphans through school, To has set his sights higher.
"I am much more ambitious now," he said.
"I want to bring more than just education to villages, I want to bring wealth."While the Chi Heng Foundation celebrated World AIDS Day by empowering those living with HIV/AIDS to forge their own future path, last week the Women's Network against AIDS China released a book that empowered women with the chance to tell their tale.
The book, titled Writing the Life, explores the stories of 28 HIV/AIDS infected women.
"These are the true voices of women affected by HIV/AIDS," said one of the books authors, Yuan Wenli.
She said that she hopes the stories will help those without HIV/AIDS understand some of the hardships women afflicted with HIV/AIDS must weather.
"What we need is not just sympathy, but also understanding," Yuan said.
Well-known Chinese artist, Wang Xiaohui, provided photographs for the book.
Chinese companies have also got involved with spreading the education of HIV/AIDS for World AIDS Day.
Standard-Charter Bank has been running its global Living with AIDS program for more than five years.
The bank has taken World AIDS Day to educate both their employees and people outside of the company about HIV/AIDS through a series of competitions and education workshops at their Beijing branch.
"We have given our staff the mission of going out and educating both friends and family about HIV," said Lyn Kok, managing director and head of corporate development for the Beijing branch of Standard-Charter Bank.