2017 October 26 (Metro Shanghai)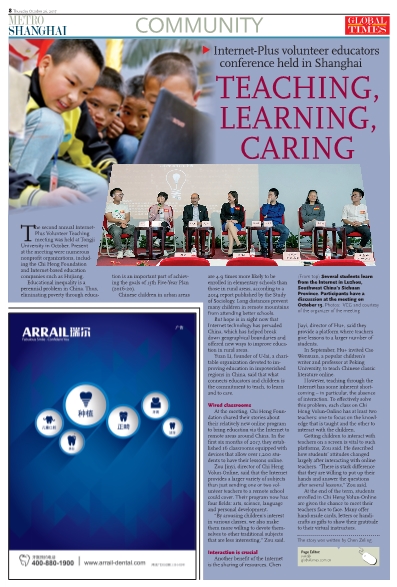 The second annual Internet-Plus Volunteer Teaching meeting was held at Tongji University in October. Present at the meeting were numerous nonprofit organizations, including the Chi Heng Foundation and Internet-based education companies such as Hujiang.
Educational inequality is a perennial problem in China. Thus, eliminating poverty through education is an important part of achieving the goals of 13th Five-Year Plan (2016-20).
Chinese children in urban areas are 4.9 times more likely to be enrolled in elementary schools than those in rural areas, according to a 2014 report published by the Study of Sociology. Long distances prevent many children in remote mountains from attending better schools.
But hope is in sight now that Internet technology has pervaded China, which has helped break down geographical boundaries and offered new ways to improve education in rural areas.
Yuan Li, founder of U-lai, a charitable organization devoted to improving education in impoverished regions in China, said that what connects educators and children is the commitment to teach, to learn and to care.
Wired classrooms
At the meeting, Chi Heng Foundation shared their stories about their relatively new online program to bring education via the Internet to remote areas around China. In the first six months of 2017, they established 16 classrooms equipped with devices that allow over 1,200 students to have their lessons online.
Zou Jinyi, director of Chi Heng Volun-Online, said that the Internet provides a larger variety of subjects than just sending one or two volunteer teachers to a remote school could cover. Their program now has four fields: arts, science, language and personal development.
"By arousing children's interest in various classes, we also make them more willing to devote themselves to other traditional subjects that are less interesting," Zou said.
Interaction is crucial
Another benefit of the Internet is the sharing of resources. Chen Jiayi, director of Hu+, said they provide a platform where teachers give lessons to a larger number of students.
In September, Hu+ invited Cao Wenxuan, a popular children's writer and professor at Peking University, to teach Chinese classic literature online.
However, teaching through the Internet has some inherent shortcoming – in particular, the absence of interaction. To effectively solve this problem, each class on Chi Heng Volun-Online has at least two teachers: one to focus on the knowledge that is taught and the other to interact with the children.
Getting children to interact with teachers on a screen is vital to such platforms, Zou said. He described how students' attitudes changed largely after interacting with online teachers. "There is stark difference that they are willing to put up their hands and answer the questions after several lessons," Zou said.
At the end of the term, students enrolled in Chi Heng Volun-Online are given the chance to meet their teachers face to face. Many offer hand-made cards, letters or handicrafts as gifts to show their gratitude to their virtual instructors.
The story was written by Chen Zeling.
Several students learn from the Internet in Luzhou, Southwest China's Sichuan Province. Photo: VCG
Participants have a discussion at the meeting on October 13. Photo: Courtesy of the organizer of the meeting