Program empowers HIV/AIDS families
(2009/12/07 China Daily)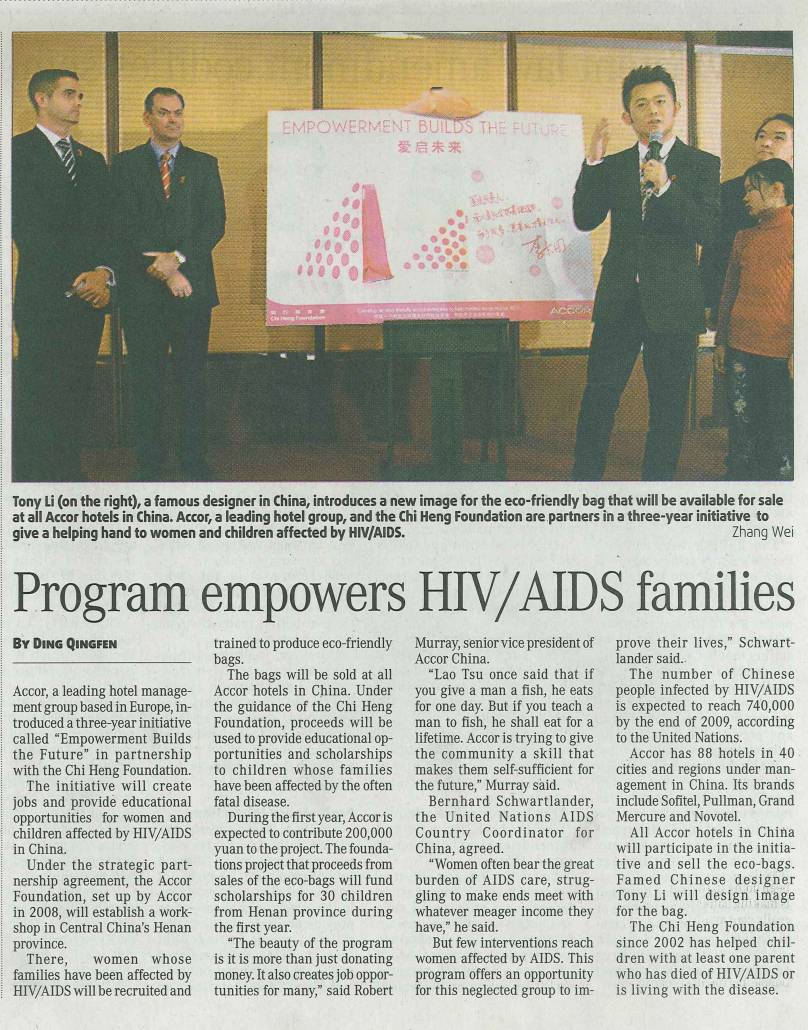 Accor, a leading hotel management group based in Europe, introduced a three-year initiative called "Empowerment Builds the Future" in partnership with the Chi Heng Foundation.
The initiative will create jobs and provide educational opportunities for women and children affected by HIV/AIDS in China.
Under the strategic partnership agreement, the Accor Foundation, set up by Accor in 2008, will establish a workshop in Central China's Henan province.
There, women whose families have been affected by HIV/AIDS will be recruited and trained to produce eco-friendly bags.
The bags will be sold at all Accor hotels in China.
Under the guidance of the Chi Heng Foundation, proceeds will be used to provide educational opportunities and scholarships to children whose families have been affected by the often fatal disease.
During the first year, Accor is expected to contribute 200,000 yuan to the project.
The foundations project that proceeds from sales of the eco-bags will fund scholarships for 30 children from Henan province during the fi rst year.
"The beauty of the program is it is more than just donating money. It also creates job opportunities for many," said Robert Murray, senior vice president of Accor China.
"Lao Tsu once said that if you give a man a fi sh, he eats for one day. But if you teach a man to fi sh, he shall eat for a lifetime. Accor is trying to give the community a skill that makes them self-suffi cient for the future," Murray said.
Bernhard Schwartlander, the United Nat ions AIDS Country Coordinator for China, agreed.
"Women often bear the great burden of AIDS care, struggling to make ends meet with whatever meager income they have," he said.
But few interventions reach women affected by AIDS. This program offers an opportunity for this neglected group to improve their lives," Schwartlander said.
The number of Chinese people infected by HIV/AIDS is expected to reach 740,000 by the end of 2009, according to the United Nations.
Accor has 88 hotels in 40 cities and regions under management in China. Its brands include Sofi tel, Pullman, Grand Mercure and Novotel.
All Accor hotels in China will participate in the initiative and sell the eco-bags.
Famed Chinese designer Tony Li will design image for the bag.
The Chi Heng Foundation since 2002 has helped children with at least one parent who has died of HIV/AIDS or is living with the disease.