EMPOWER THE DESERVING
(2009/08/07 The PEAK)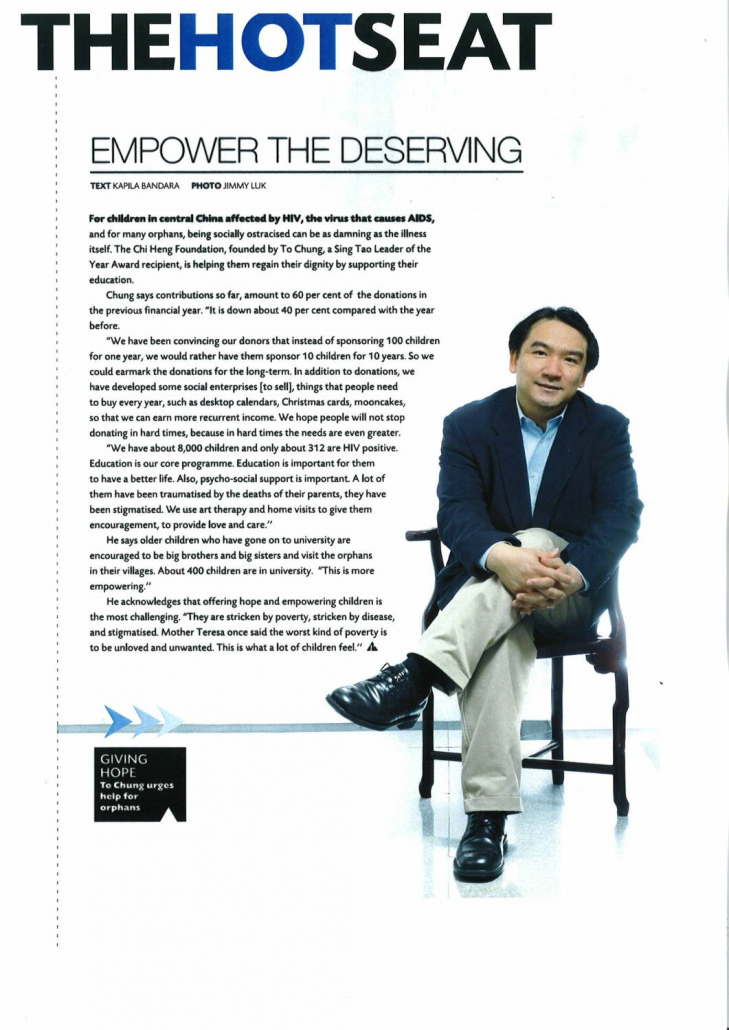 For children in central China affected by HIV, the virus that causes AIDS, and for many orphans, being socially ostracised can be as damning as the illness itself.
The Chi Heng Foundation, founded by To Chung, a Sing Tao Leader of the Year Award recipient, is helping them regain their dignity by supporting their education.
Chung says contributions so far, amount to 60 per cent of the donations in the previous financial year. "It is down about 40 per cent compared with the year before.
"We have been convincing our donors that instead of sponsoring 100 children for one year, we would rather have them sponsor 10 children for 10 years. So we could earmark the donations for the long-term.
In addition to donations, we have developed some social enterprises [to sell], things that people need to buy every year, such as desktop calendars, Christmas cards, mooncakes, so that we can earn more recurrent income.
We hope people will not stop donating in hard times, because in hard times the needs are even greater.
"We have about 8,000 children and only about 312 are HIV positive.
Education is our core programme. Education is important for them to have a better life.
Also, psycho-social support is important. A lot of them have been traumatised by the deaths of their parents, they have been stigmatised.
We use art therapy and home visits to give them encouragement, to provide love and care."
He says older children who have gone on to university are encouraged to be big brothers and big sisters and visit the orphans in their villages. About 400 children are in university. "This is more empowering."
He acknowledges that offering hope and empowering children is the most challenging. "'They are stricken by poverty, stricken by disease, and stigmatised. Mother Teresa once said the worst kind of poverty is to be unloved and unwanted. This is what a lot of children feel."
GIVING HOPE
To Chung urges help for orphans