Charity founder shows how full life can be for Aids-affected children
(2009/08/16 SCMP)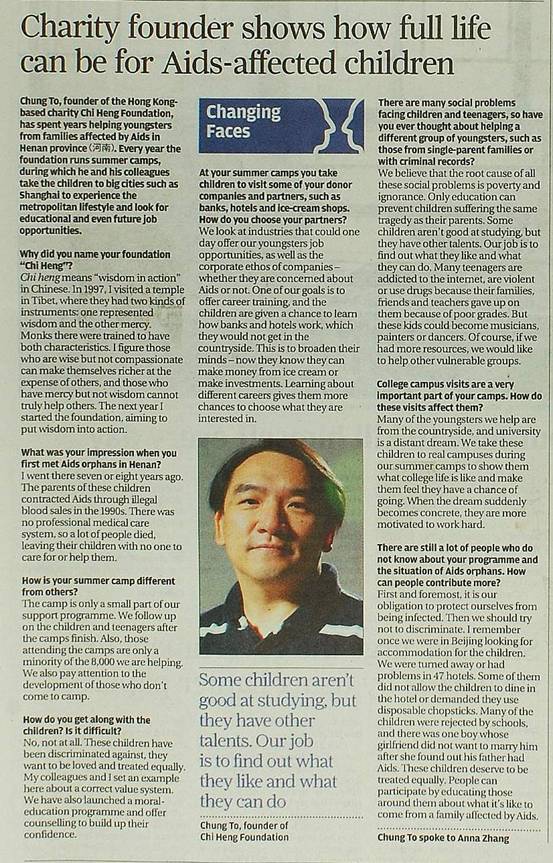 Chung To, founder of the Hong Kong-based charity Chi Heng Foundation, has spent years helping youngsters from families affected by Aids in Henan province.
Every year the foundation runs summer camps, during which he and his colleagues take the children to big cities such as Shanghai to experience the metropolitan lifestyle and look for educational and even future job opportunities.
Why did you name your foundation "Chi Heng "?
Chi Heng means "wisdom in action" in Chinese. In 1997, I visited a temple in Tibet, where they had two kinds of instruments: one represented wisdom and the other mercy. Monks there were trained to have both characteristics. I figure those who are wise but not compassionate can make themselves richer at the expense of others, and those who have mercy but not wisdom cannot truly help others. The next year I started the foundation, aiming to put wisdom into action.
What was your impression when you first met Aids orphans in Henan?
I went there seven or eight years ago. The parents of these children contracted Aids through illegal blood sales in the 1990s. There was no professional medical care system, so a lot of people died, leaving their children with no one to care for or help them.
How is your summer camp different from others?
The camp is only a small part of our support programme. We follow up on the children and teenagers after the camps finish. Also, those attending the camps are only a minority of the 8,000 we are helping. We also pay attention to the development of those who don't come to camp.
How do you get along with the children? Is it difficult?
No, not at all. These children have been discriminated against, they want to be loved and treated equally. My colleagues and I set an example here about a correct value system. We have also launched a moral-education programme and offer counselling to build up their confidence.
At your summer camps you take children to visit some of your donor companies and partners, such as banks, hotels and ice-cream shops. How do you choose your partners?
We look at industries that could one day offer our youngsters job opportunities, as well as the corporate ethos of companies – whether they are concerned about Aids or not. One of our goals is to offer career training, and the children are given a chance to learn how banks and hotels work, which they would not get in the countryside. This is to broaden their minds – now they know they can make money from ice cream or make investments. Learning about different careers gives them more chances to choose what they are interested in.
There are many social problems facing children and teenagers, so have you ever thought about helping a different group of youngsters, such as those from single-parent families or with criminal records?
We believe that the root cause of all these social problems is poverty and ignorance. Only education can prevent children suffering the same tragedy as their parents. Some children aren't good at studying, but they have other talents. Our job is to find out what they like and what they can do. Many teenagers are addicted to the internet, are violent or use drugs because their families, friends and teachers gave up on them because of poor grades. But these kids could become musicians, painters or dancers. Of course, if we had more resources, we would like to help other vulnerable groups.
College campus visits are a very important part of your camps. How do these visits affect them?
Many of the youngsters we help are from the countryside, and university is a distant dream. We take these children to real campuses during our summer camps to show them what college life is like and make them feel they have a chance of going. When the dream suddenly becomes concrete, they are more motivated to work hard.
There are still a lot of people who do not know about your programme and the situation of Aids orphans. How can people contribute more?
First and foremost, it is our obligation to protect ourselves from being infected. Then we should try not to discriminate. I remember once we were in Beijing looking for accommodation for the children. We were turned away or had problems in 47 hotels. Some of them did not allow the children to dine in the hotel or demanded they use disposable chopsticks. Many of the children were rejected by schools, and there was one boy whose girlfriend did not want to marry him after she found out his father had Aids. These children deserve to be treated equally. People can participate by educating those around them about what it's like to come from a family affected by Aids.
Chung To spoke to Anna Zhang