2014 November 8  (South China Morning Post)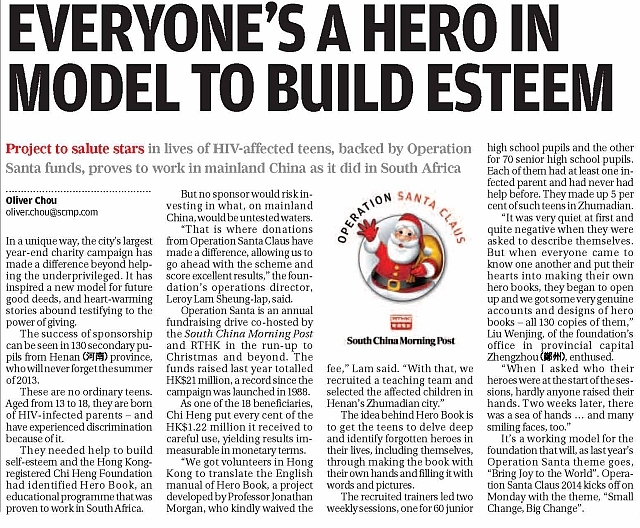 In a unique way, the city's largest year-end charity campaign has made a difference beyond helping the underprivileged. It has inspired a new model for future good deeds, and heart-warming stories abound testifying to the power of giving.
The success of sponsorship can be seen in 130 secondary pupils from Henan province, who will never forget the summer of 2013.
These are no ordinary teens. Aged from 13 to 18, they are born of HIV-infected parents – and have experienced discrimination because of it.
They needed help to build self-esteem and the Hong Kong registered Chi Heng Foundation had identified Hero Book, an educational programme that was proven to work in South Africa.
But no sponsor would risk investing in what, on mainland China, would be untested waters.
"That is where donations from Operation Santa Claus have made a difference, allowing us to go ahead with the scheme and score excellent results," the foundation's operations director, Leroy Lam Sheung-lap, said.
Operation Santa is an annual fundraising drive co-hosted by the South China Morning Post and RTHK in the run-up to Christmas and beyond. The funds raised last year totaled HK$21million, a record since the campaign was launched in 1988.
As one of the 18 beneficiaries, Chi Heng put every cent of the HK$1.22 million it received to careful use, yielding results immeasurable in monetary terms.
"We got volunteers in Hong Kong to translate the English manual of Hero Book, a project developed by Professor Jonathan Morgan, who kindly waived the fee," Lam said. "With that, we recruited a teaching team and selected the affected children in Henan's Zhumadian city."
The idea behind Hero Book is to get the teens to delve deep and identify forgotten heroes in their lives, including themselves, through making the book with their own hands and filling it with words and pictures.
The recruited trainers led two weekly sessions, one for 60 junior high school pupils and the other for 70 senior high school pupils. Each of them had at least one infected parent and had never had help before. They made up 5 per cent of such teens in Zhumadian.
"It was very quiet at first and quite negative when they were asked to describe themselves. But when everyone came to know one another and put their hearts into making their own hero books, they began to open up and we got some very genuine accounts and designs of hero books – all 130 copies of them," Liu Wenjing, of the foundation's office in provincial capital Zhengzhou, enthused.
"When I asked who their heroes were at the start of the sessions, hardly anyone raised their hands. Two weeks later, there was a sea of hands … and many smiling faces, too."
It's a working model for the foundation that will, as last year's Operation Santa theme goes, "Bring Joy to the World". Operation Santa Claus 2014 kicks off on Monday with the theme, "Small Change, Big Change".