Helping AIDS Orphans
(2008/12/01 Development Asia)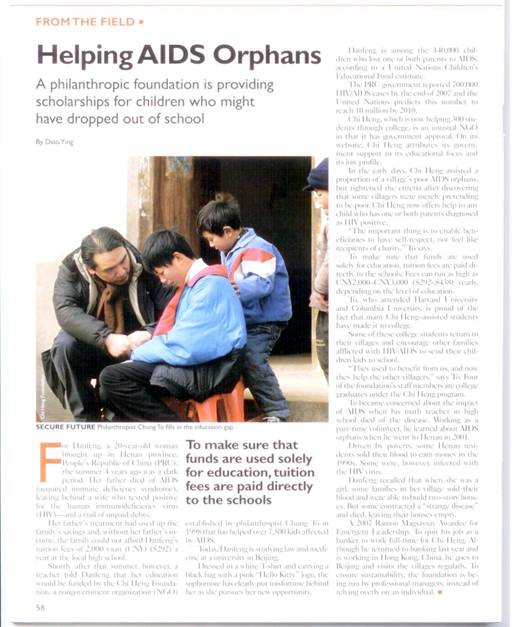 A philanthropic foundation is providing scholarships for children who might have dropped out of school
By Diao Ying
To make sure that funds are used solely for education, tuition fees are paid directly to the schools
For Danfeng a 20-year-old woman brought up in Henan province. People's Republic of China (PRC), the summer 4 years ago was a dark period. Her father died of AIDS(acquired immune deficiency syndrome),leaving behind a wife who tested positive for the human immunodeficiency virus (HIV)—and a trail of unpaid debts.
Her father's treatment had used up the family's savings and, without her father's in-come, the family could not afford Danfeng's tuition fees of 2,000 yuan (CNY) ($292) a year at the local high school.
Shortly after that summer, however, a teacher told Danfeng that her education would be funded by the Chi Heng Foundation, a nongovernment organization (NGO) established by philanthropist (Chung To in 1998 that has helped over 7,500 kids affected by AIDS.
Today, Danfeng is studying law and medicine at a university in Beijing.
Dressed in a white T-shirt and carrying a black bag with a ping "Hello Kitty" logo, the sophomore has clearly put misfortune behind her as she pursues her new opportunity.
Danfeng is among the 140,000 children who lost one or both parents to AIDS, according to a United Nations Children's Educational Fund estimate.
The PRC government reported 700,000 HIV/AIDS cases by the end of 2007 and the United Nations predicts this number to reach million by 2010.
Chi Heng, which is now helping 300 students through college, is an unusual NGO in that it has government approval. On its website. Chi Heng attributes its government support to its educational focus and its low profile.
In the early days, Chi Heng assisted a proportion of a village's poor AIDS orphans, but tightened the criteria after discovering that some villagers were merely pretending to be poor. Chi Heng now offers help to any child who has one or both parents diagnosed as HIV positive.
"The important thing is to enable beneficiaries to have self-respect, not feel like recipients of charity," To says.
To make sure that funds are used solely for education, tuition fees are paid directly to the schools. Fees can run as high as CNY 2,000-CNY 3,000 ($292-438) yearly, depending on the level of education.
To who attended Harvard University and Columbia University, is proud of the fact that many Chi Heng-assisted students have made it to college.
Some of these college students return to their villages and encourage other families afflicted with HIV-AIDS to send their children kids to school.
"They used to benefit from us, and now they help the other villagers," says To. Four of the foundation's stall members are college graduates under the Chi Heng program.
To became concerned about the impact of AIDS when his math teacher in high school died of the disease. Working as a part-time volunteer, he learned about AIDS orphans when he went to Henan in 2001.
Driven by poverty, some Henan residents sold their blood to earn money in the 1990s. Some were, however, infected with the HIV virus.
Danfeng recalled that when she was a girl, some families in her village sold their blood and were able to build two-story houses. But some contracted a "strange disease" and died, leaving their houses empty.
A 2007 Ramon Magsaysay Awardee for Emergent Leadership, To quit his job as a banker to work full-time for Chi Heng. Al-though he returned to banking last year and is working in Hong King, China he goes to Beijing and visits the villages regularly.
To ensure sustainability, the foundation is being run by professional managers, instead of relying overly on an individual.
Photo caption : SECURE FUTURE Philanthropist Chung To fills in the education gap