Aids tragedy trio run for a cause
(2007/03/04 SCMP)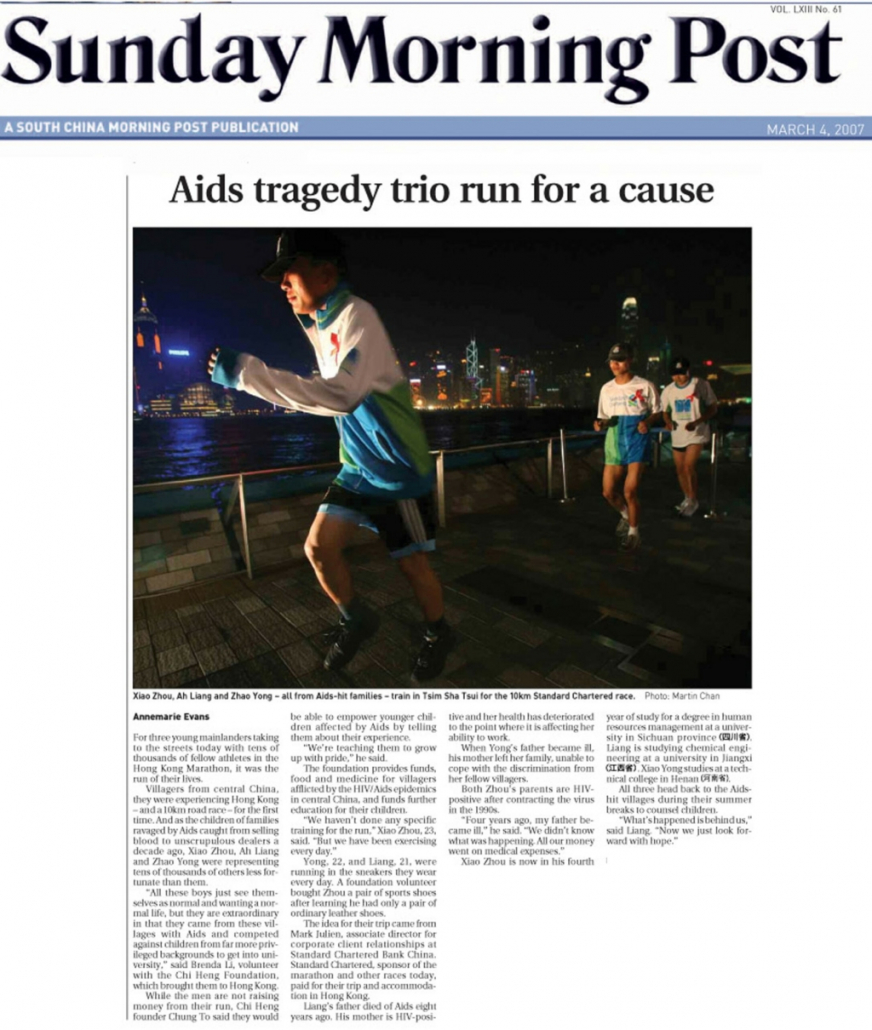 For three young mainlanders taking to the streets today with tens of thousands of fellow athletes in the Hong Kong Marathon, it was the run of their lives.
Villagers from central China, they were experiencing Hong Kong – and a 10km road race – for the first time. And as the children of families ravaged by Aids caught from selling blood to unscrupulous dealers a decade ago, Xiao Zhou, Ah Liang and Zhao Yong were representing tens of thousands of others less fortunate than them.
All these boys just see themselves as normal and wanting a normal life, but they are extraordinary in that they came from these villages with Aids and competed against children from far more privileged backgrounds to get into university, said Brenda Li, volunteer with the Chi Heng Foundation, which brought them to Hong Kong.
While the men are not raising money from their run, Chi Heng founder Chung To said they would be able to empower younger children affected by Aids by telling them about their experience.
We're teaching them to grow up with pride, he said.
The foundation provides funds, food and medicine for villagers afflicted by the HIV/Aids epidemics in central China, and funds further education for their children.
We haven't done any specific training for the run, Xiao Zhou, 23, said. But we have been exercising every day.
Yong, 22, and Liang, 21, were running in the sneakers they wear every day. A foundation volunteer bought Zhou a pair of sports shoes after learning he had only a pair of ordinary leather shoes.
The idea for their trip came from Mark Julien, associate director for corporate client relationships at Standard Chartered Bank China. Standard Chartered, sponsor of the marathon and other races today, paid for their trip and accommodation in Hong Kong.
Liang's father died of Aids eight years ago. His mother is HIV-positive and her health has deteriorated to the point where it is affecting her ability to work.
When Yong's father became ill, his mother left her family, unable to cope with the discrimination from her fellow villagers.
Both Zhou's parents are HIV-positive after contracting the virus in the 1990s.
Four years ago, my father became ill, he said. We didn't know what was happening. All our money went on medical expenses.
Xiao Zhou is now in his fourth year of study for a degree in human resources management at a university in Sichuan province . Liang is studying chemical engineering at a university in Jiangxi . Xiao Yong studies at a technical college in Henan.
All three head back to the Aids-hit villages during their summer breaks to counsel children. What's happened is behind us, said Liang. Now we just look forward with hope.