AIDS village survivors the forgotten victims
(2002/08/12 SCMP)
來源: https://www.scmp.com/article/388005/aids-village-survivors-forgotten-victims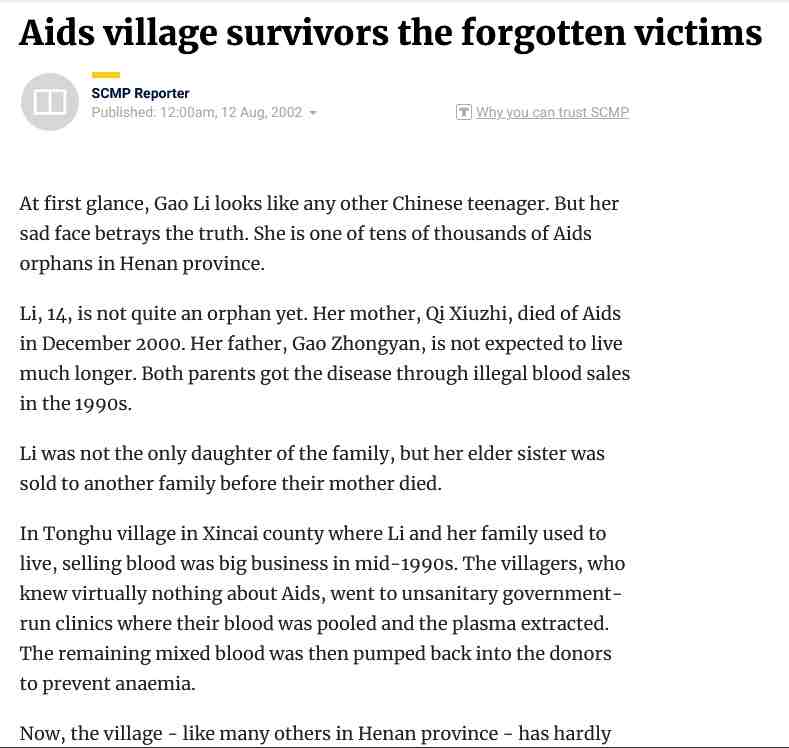 At first glance, Gao Li looks like any other Chinese teenager. But her sad face betrays the truth. She is one of tens of thousands of Aids orphans in Henan province.
Li, 14, is not quite an orphan yet. Her mother, Qi Xiuzhi, died of Aids in December 2000. Her father, Gao Zhongyan, is not expected to live much longer. Both parents got the disease through illegal blood sales in the 1990s.
Li was not the only daughter of the family, but her elder sister was sold to another family before their mother died.
In Tonghu village in Xincai county where Li and her family used to live, selling blood was big business in mid-1990s. The villagers, who knew virtually nothing about Aids, went to unsanitary government-run clinics where their blood was pooled and the plasma extracted. The remaining mixed blood was then pumped back into the donors to prevent anaemia.
Now, the village – like many others in Henan province – has hardly any people left. The adults are either dead, seriously ill, or have moved away. Only the children and their grandparents are left.
Local governments have rejected requests from foreign relief agencies to visit the villages and journalists are barred.
One source who was able to visit the area recently said virtually all the villages were deserted.
You can't find adults and young people in these villages any more, the source said. They leave the elderly and the children behind in abject poverty. You can sense the desperation in the air.
He said local officials had admitted that among those aged 30-50, the infection rate was as high as 60 per cent in some villages.
Many cadres who ran these villages were the so-called bloodheads behind the illegal blood sales which had caused the crisis, he said, adding: They beat up visitors who dare to expose the disaster..
The Chinese government has admitted the scandal and said as many as 150,000 villagers in Henan province have contracted HIV through selling blood. Officials stressed measures had been taken to address the problem.
Gao Yaojie, the retired gynaecologist who first revealed the plight of the Aids villagers and has fought to educate them and get them treatment, was barred by Beijing from going to Washington last year to receive the Jonathan Mann Award for Health and Human Rights. She estimates there are about as one million HIV-positive patients in Henan province.
Official numbers of Aids orphans are not available. However, unconfirmed reports have claimed that seven years after the scandal came to light, there could now be as many as a million children in Henan province who have lost or are about to lose their parents.
The plight of these children is rarely discussed in Chinese official media.
Li's situation highlights the level of ignorance. Despised and rejected, she was forced to quit school after her mother's death. Thanks to Dr Gao's help and subsidies, she has joined a foreign language school where her schoolmates were not told about her tragic background.
My father is seriously ill and I don't know how long he can survive, Li wrote in a letter. I don't know what I would do if I couldn't go to school any more.
Aids children like Li are forgotten. Many of them are now out of school. They can rarely support themselves, let alone buy the expensive treatment their parents need, and they live in a society which shuns them.
A report by the United Nations in June acknowledged the problem of Aids children was acute.
A coupon system was introduced by the government earlier this year to help HIV patients. The coupons entitle those confirmed as HIV-positive to free medicine. But the system is not yet established in all the villages where help is needed.
In China, the average cost of HIV drug cocktail treatments is about 3,300 yuan (HK$3,100) a month – an astronomical sum for most Henan farmers.
Many experienced medical staff at grassroots level have left these villages for cities where they have the opportunity to make a better living. The Aids patients are abandoned, one source said.
The hush-hush attitude of local governments has driven many Aids victims' families to desperation. A riot reportedly broke out in several villages in March. Some have also written letters to central government leaders in Beijing pleading for help.
Last month, a Beijing-based non-governmental organisation which monitored the Aids problems in Henan was shut down after it publicised reports claiming more farmers had died of Aids in the province.
Some foreign relief agencies have suggested sponsoring schooling for the Aids children or orphans and running public awareness programmes. However, so far the local governments have rejected their ideas.
Sources said the central government was prepared to provide a special fund for Henan to deal with the HIV crisis but the funding had been put on hold partly because of a leadership reshuffle expected later this year.
Local governments have reportedly provided subsidies to the Aids orphans, but the fund only benefited children who had lost both parents.
Relief agencies, meanwhile, suggested the government needed to move faster to implement measures including the provision of basic care to the Aids orphans and children such as schools, day-care centres and even workshops to enable those who had the necessary skills to make a living.
Copyright (c) 2002. South China Morning Post Publishers Ltd. All rights reserved