Charity for Aids orphans will be partner at HK International Art Fair
(2009/04/27 SCMP)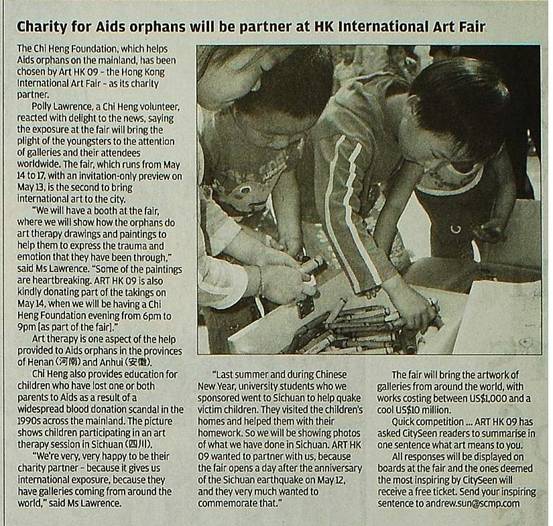 The Chi Heng Foundation, which helps Aids orphans on the mainland, has been chosen by Art HK 09 – the Hong Kong International Art Fair – as its charity partner.
Polly Lawrence, a Chi Heng volunteer, reacted with delight to the news, saying the exposure at the fair will bring the plight of the youngsters to the attention of galleries and their attendees worldwide. The fair, which runs from May 14 to 17, with an invitation-only preview on May 13, is the second to bring international art to the city.
"We will have a booth at the fair, where we will show how the orphans do art therapy drawings and paintings to help them to express the trauma and emotion that they have been through," said Ms Lawrence.
"Some of the paintings are heartbreaking. ART HK 09 is also kindly donating part of the takings on May 14, when we will be having a Chi Heng Foundation evening from 6pm to 9pm [as part of the fair]."
Art therapy is one aspect of the help provided to Aids orphans in the provinces of Henan and Anhui .
Chi Heng also provides education for children who have lost one or both parents to Aids as a result of a widespread blood donation scandal in the 1990s across the mainland. The picture shows children participating in an art therapy session in Sichuan .
"We're very, very happy to be their charity partner – because it gives us international exposure, because they have galleries coming from around the world," said Ms Lawrence.
"Last summer and during Chinese New Year, university students who we sponsored went to Sichuan to help quake victim children. They visited the children's homes and helped them with their homework. So we will be showing photos of what we have done in Sichuan. ART HK 09 wanted to partner with us, because the fair opens a day after the anniversary of the Sichuan earthquake on May 12, and they very much wanted to commemorate that."
The fair will bring the artwork of galleries from around the world, with works costing between US$1,000 and a cool US$10 million.
Quick competition … ART HK 09 has asked CitySeen readers to summarise in one sentence what art means to you.
All responses will be displayed on boards at the fair and the ones deemed the most inspiring by CitySeen will receive a free ticket. Send your inspiring sentence to [email protected]