Student whose father died of AIDS helps ease painful recovery for Sichuan's quake children
(2008/08/17 SCMP)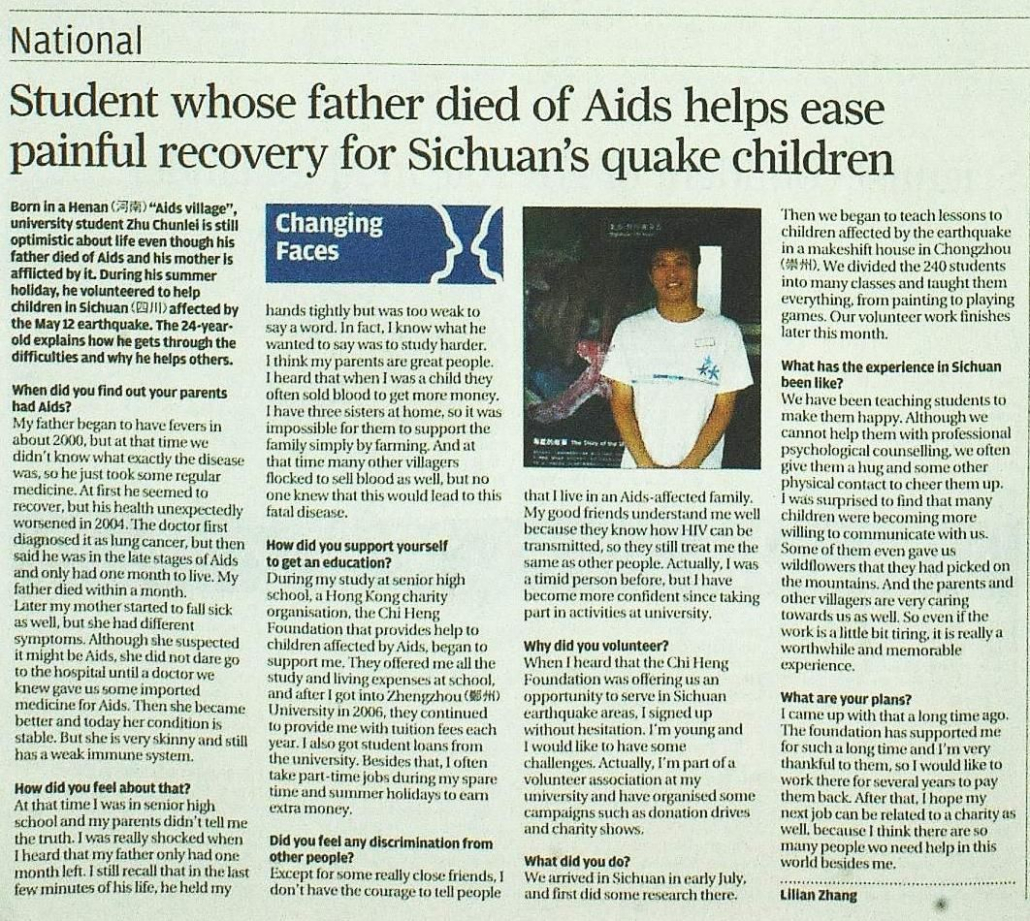 Born in a Henan "Aids village", university student Zhu Chunlei is still optimistic about life even though his father died of Aids and his mother is afflicted by it. During his summer holiday, he volunteered to help children in Sichuan affected by the May 12 earthquake. The 24-year-old explains how he gets through the difficulties and why he helps others.
When did you find out your parents had Aids?
My father began to have fevers in about 2000, but at that time we didn't know what exactly the disease was, so he just took some regular medicine. At first he seemed to recover, but his health unexpectedly worsened in 2004. The doctor first diagnosed it as lung cancer, but then said he was in the late stages of Aids and only had one month to live. My father died within a month.
Later my mother started to fall sick as well, but she had different symptoms. Although she suspected it might be Aids, she did not dare go to the hospital until a doctor we knew gave us some imported medicine for Aids. Then she became better and today her condition is stable. But she is very skinny and still has a weak immune system.
How did you feel about that?
At that time I was in senior high school and my parents didn't tell me the truth. I was really shocked when I heard that my father only had one month left. I still recall that in the last few minutes of his life, he held my hands tightly but was too weak to say a word. In fact, I know what he wanted to say was to study harder.
I think my parents are great people. I heard that when I was a child they often sold blood to get more money. I have three sisters at home, so it was impossible for them to support the family simply by farming. And at that time many other villagers flocked to sell blood as well, but no one knew that this would lead to this fatal disease.
How did you support yourself to get an education?
During my study at senior high school, a Hong Kong charity organisation, the Chi Heng Foundation that provides help to children affected by Aids, began to support me. They offered me all the study and living expenses at school, and after I got into Zhengzhou University in 2006, they continued to provide me with tuition fees each year. I also got student loans from the university. Besides that, I often take part-time jobs during my spare time and summer holidays to earn extra money.
Did you feel any discrimination from other people?
Except for some really close friends, I don't have the courage to tell people that I live in an Aids-affected family. My good friends understand me well because they know how HIV can be transmitted, so they still treat me the same as other people. Actually, I was a timid person before, but I have become more confident since taking part in activities at university.
Why did you volunteer?
When I heard that the Chi Heng Foundation was offering us an opportunity to serve in Sichuan earthquake areas, I signed up without hesitation. I'm young and I would like to have some challenges. Actually, I'm part of a volunteer association at my university and have organised some campaigns such as donation drives and charity shows.
What did you do?
We arrived in Sichuan in early July, and first did some research there. Then we began to teach lessons to children affected by the earthquake in a makeshift house in Chongzhou . We divided the 240 students into many classes and taught them everything, from painting to playing games. Our volunteer work finishes later this month.
What has the experience in Sichuan been like?
We have been teaching students to make them happy. Although we cannot help them with professional psychological counselling, we often give them a hug and some other physical contact to cheer them up. I was surprised to find that many children were becoming more willing to communicate with us. Some of them even gave us wildflowers that they had picked on the mountains. And the parents and other villagers are very caring towards us as well. So even if the work is a little bit tiring, it is really a worthwhile and memorable experience.
What are your plans?
I came up with that a long time ago. The foundation has supported me for such a long time and I'm very thankful to them, so I would like to work there for several years to pay them back. After that, I hope my next job can be related to a charity as well, because I think there are so many people wo need help in this world besides me.
Lilian Zhang