Rolling out the mysteries of French baking
(2009/02/11 Shanghai Daily)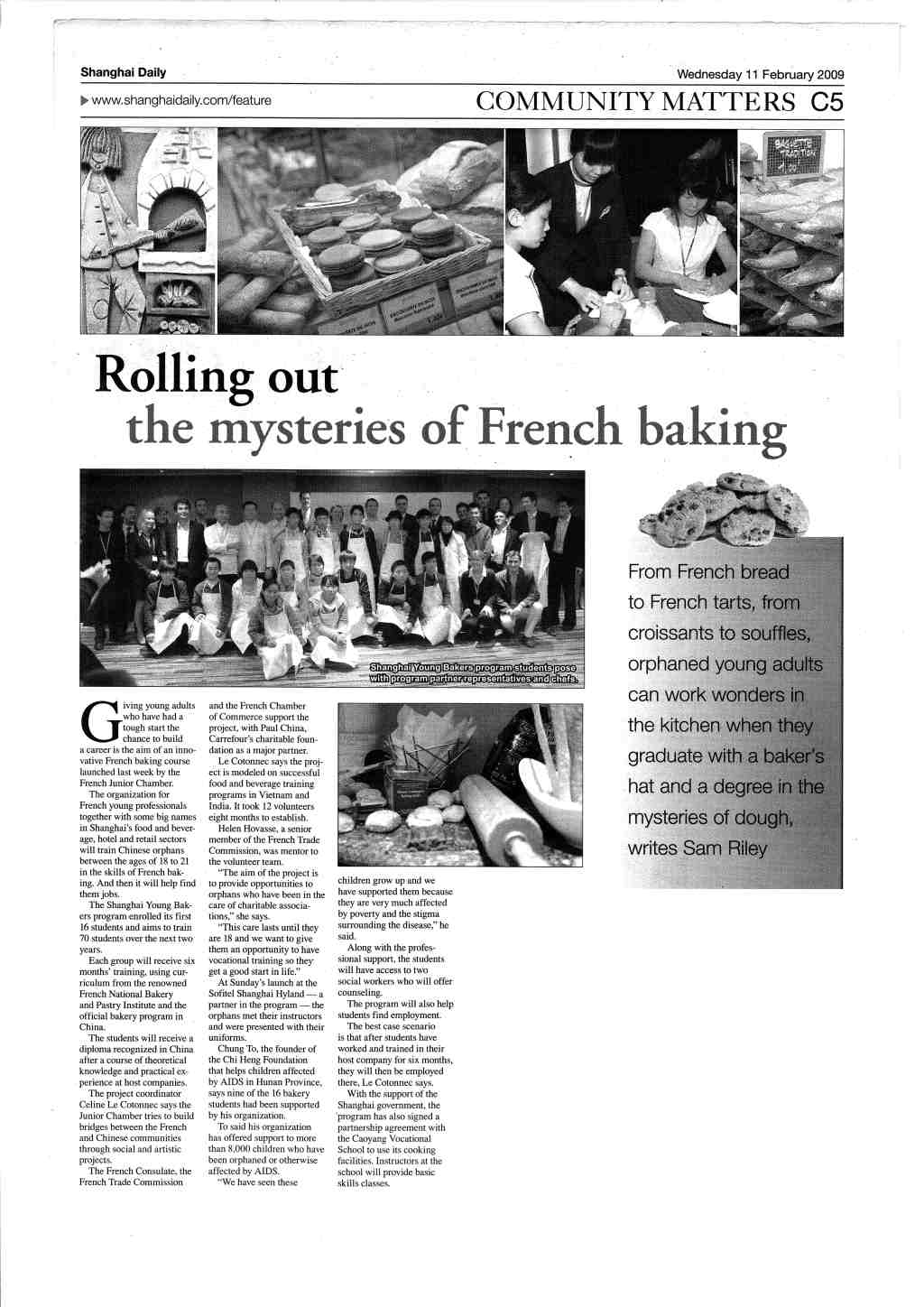 From French bread to French tarts, from croissants to souffles, orphaned young adults can work wonders in the kitchen when they graduate with a baker's hat and a degree in the mysteries of dough, writes Sam Riley
Giving young adults who have had a tough start the chance to build a career is the aim of an innovative French baking course launched last week by the French Junior Chamber.
The organization for French young professionals together with some big names in Shanghai's food and beverage, hotel and retail sectors will train Chinese orphans between the ages of 18 to 21 in the skills of French baking. And then it will help find them jobs.
The Shanghai Young Bakers program enrolled its first 16 students and aims to train 70 students over the next two years.
Each group will receive six months' training, using curriculum from the renowned French National Bakery and Pastry Institute and the official bakery program in China.
The students will receive a diploma recognized in China after a course of theoretical knowledge and practical experience at host companies.
The project coordinator Celine Le Cotonnec says the Junior Chamber tries to build bridges between the French and Chinese communities through social and artistic projects.
The French Consulate, the French Trade Commission and the French Chamber of Commerce support the project, with Paul China, Carrefour's charitable foundation as a major partner.
Le Cotonnec says the project is modeled on successful food and beverage training programs in Vietnam and India. It took 12 volunteers eight months to establish.
Helen Hovasse, a senior member of the French Trade Commission, was mentor to the volunteer team.
"The aim of the project is to provide opportunities to orphans who have been in the care of charitable associations," she says.
"This care lasts until they are 18 and we want to give them an opportunity to have vocational training so they get a good start in life."
At Sunday's launch at the Sofitel Shanghai Hyland – a partner in the program – the orphans met their instructors and were presented with their uniforms.
Chung To, the founder of the Chi Heng Foundation that helps children affected by AIDS in Hunan Province, says nine of the 16 bakery students had been supported by his organization.
To said his organization has offered support to more than 8,000 children who have been orphaned or otherwise affected by AIDS.
"We have seen these children grow up and we have supported them because they are very much affected by poverty and the stigma surrounding the disease," he said.
Along with the professional support, the students will have access to two social workers who will offer counseling.
The program will also help students find employment.
The best case scenario is that after students have worked and trained in their host company for six months, they will then be employed there, Le Cotonnec says.
With the support of the Shanghai government, the program has also signed a partnership agreement with the Caoyang Vocational School to use its cooking facilities. Instructors at the school will provide basic skills classes.