CityU project helps mainland Aids orphans
(2008/03/01 SCMP)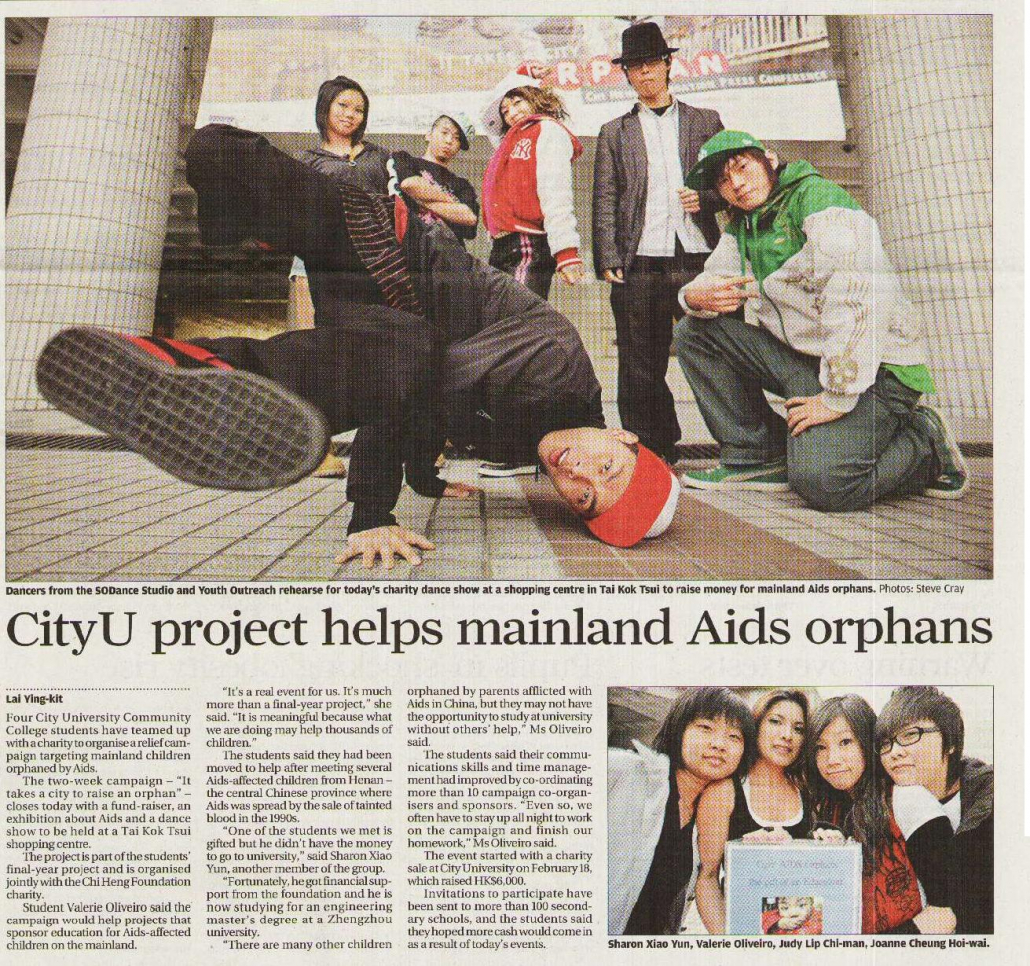 Four City University Community College students have teamed up with a charity to organise a relief campaign targeting mainland children orphaned by Aids.
The two-week campaign – "It takes a city to raise an orphan" – closes today with a fund-raiser, an exhibition about Aids and a dance show to be held at a Tai Kok Tsui shopping centre.
The project is part of the students' final-year project and is organised jointly with the Chi Heng Foundation charity.
Student Valerie Oliveiro said the campaign would help projects that sponsor education for Aids-affected children on the mainland.
"It's a real event for us. It's much more than a final-year project," she said. "It is meaningful because what we are doing may help thousands of children."
The students said they had been moved to help after meeting several Aids-affected children from Henan – the central Chinese province where Aids was spread by the sale of tainted blood in the 1990s.
"One of the students we met is gifted but he didn't have the money to go to university," said Sharon Xiao Yun, another member of the group.
"Fortunately, he got financial support from the foundation and he is now studying for an engineering master's degree at a Zhengzhou university.
"There are many other children orphaned by parents afflicted with Aids in China, but they may not have the opportunity to study at university without others' help," Ms Oliveiro said.
The students said their communications skills and time management had improved by co-ordinating more than 10 campaign co-organisers and sponsors. "Even so, we often have to stay up all night to work on the campaign and finish our homework," Ms Oliveiro said.
The event started with a charity sale at City University on February 18, which raised HK$6,000.
Invitations to participate have been sent to more than 100 secondary schools, and the students said they hoped more cash would come in as a result of today's events.