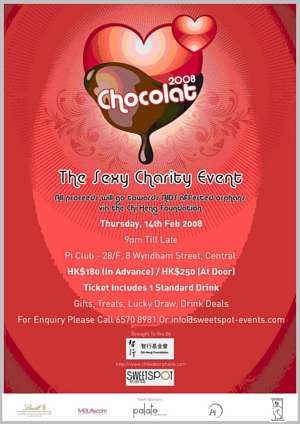 Get geared up for the Sexy Charity Event on valentine's day @ Pi club on 14 February, 2008, generously sponsored by Lindt Chocolate, Palate, MabelleLife, Pi and Spa Beaute Par Zai. Following up on last year's fundraising success, all proceeds from CHOCOLAT 2008 will go towards the education of AID-affected orphans via the Chi Heng Foundation.
Tickets are priced at HK$180 if bought in advance, and HK$250 if purchased at the door.
Your ticket includes:
Entry to Pi Club
One Standard Drink
Gift Vouchers on entry
Drink Deals
Chocolate Galore
Raffle prizes courtesy of Lindt Chocolate, Palate, Beaute Par Zai and Pi Club
An excellent night out
Please email [email protected] for enquiry and ticket purchase.
This post is also available in: Chinese (Traditional) Chinese (Simplified)