Master Ng Ping Kwan is a renowned guzheng educator, composer, and guzheng and harp performer in Hong Kong.  He has composed over 600 songs, many of which have been broadcasted on radios and television.  He is now Chairman of Hong Kong Music Education Society, Music Director of Hong Kong The Best Youth of Zheng Arts, as well as consultant of numerous music groups.  Master Ng has also performed in many countries and released three albums of guzheng music, including "The Sound of Chinese Guzheng", "The River on a Spring Night" and "The Greatest Sound of Guzheng".
In the concert, Master Ng, accompanied by his musician friends and students, will showcase a fusion of traditional Chinese music and arts. Net income of the concert will go to Chi Heng Foundation to support the education of AIDS impacted children in China.
VIP ticketing: Please download and return the completed order form to Chi Heng.
Enquiry: Ms. Cherry Cheung / Fax: (852) 2517 0594 / Email: [email protected].
General ticketing: www.hkticketing.com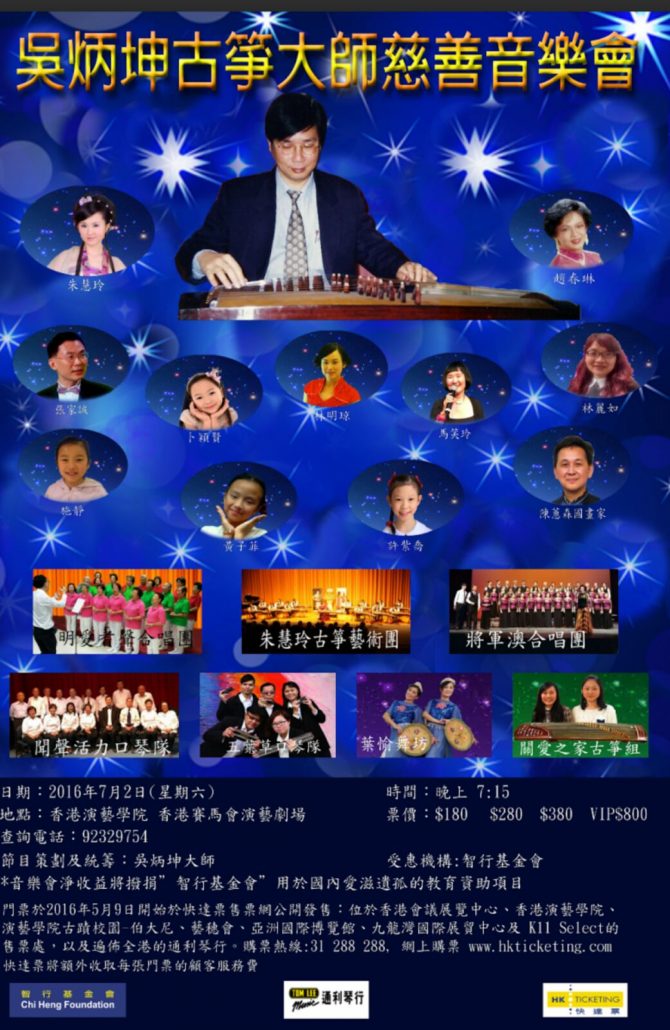 This post is also available in: Chinese (Traditional) Chinese (Simplified)