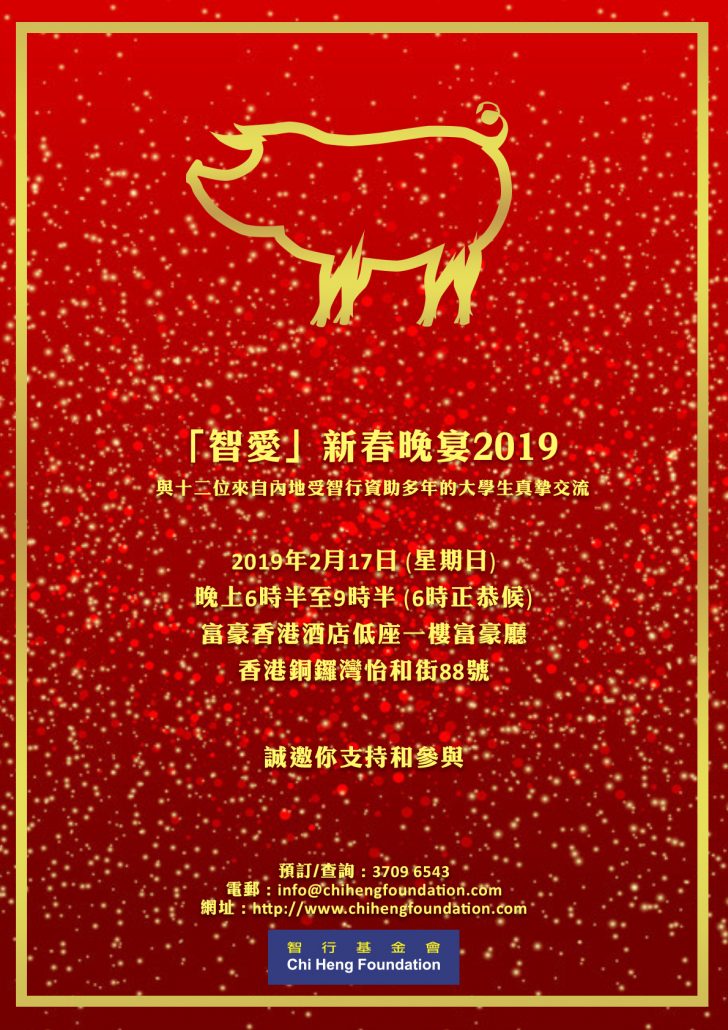 "Passion & Love" Chi Heng Foundation New Year Dinner 2019
Chi Heng Foundation is delighted to host a New Year Dinner on Sunday February 17, 2019 in celebration of the Year of Pig. 12 university students supported by Chi Heng will run in the Standard Chartered Bank HK Marathon 10KM race that Sunday morning, and will join the dinner to share their uplifting stories with us. All proceeds from the evening after subtracting all the necessary expenses will go to support the education, living and psycho-social support expenses of AIDS impacted children in China and the operation of Chi Heng.
We cordially invite you to join the dinner and to enjoy a fun, heart-warming evening with our sponsored students.
Dinner Details

Date            : February 17, 2019 (Sunday)
Venue         : Regal Hong Kong Hotel, Regal Ballroom, Basement 1
Address      : 88 Yee Wo Street, Causeway Bay, Hong Kong
Time           : Reception at 6PM. Dinner start at 7 PM
For enquries:
Ms. Carol Cheuk or Ms Gillian Tang / 3709 6543 / [email protected]
Yours sincerely
Chi Heng Foundation
This post is also available in: Chinese (Traditional) Chinese (Simplified)