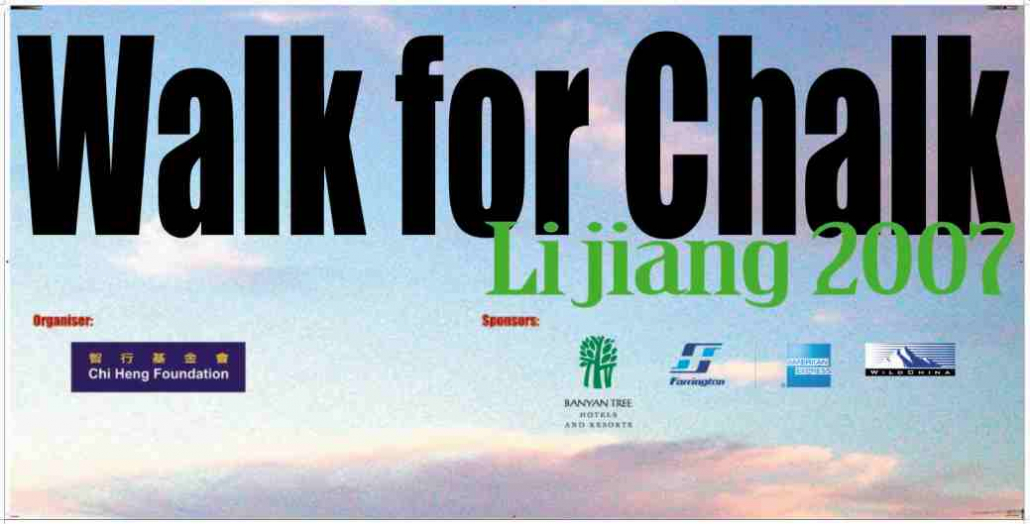 A Memorable and Rewarding Fund Raising Event
Held from 27 to 31 October, 2007 in the UNESCO World Heritage Site of LiJiang, Yunnan, to raise funds for AIDS impacted children in China.
Beauty of nature, Splendor of the Old Town and Charm of ethnic minorities await you in LiJiang.  It is a land of rich culture, beauty and diversity that you must visit.  Offer a future to AIDS orphans when you join the Walk.
Objectives
–       Raise $2M exclusively for education related activities for AIDS Orphan Project
–       Share experience and learning on helping AIDS orphans
–       Build on the network of supporters
Project Summary:
This is an exclusive, by-invitation-only, 5 day 4 night trip for 40+ VIP guests and supporters of Chi Heng Foundation.
The setting:  The 5-day stay in Lijiang will allow us to better explore the area and the culture, go on special treks, and visit unique while less-traveled sites.  We will visit the charming LiJiang Old Town, majestic Jade Dragon Snow Mountain and surprising Baoshan Stone City on a Herculean rock in the Jinsha River Valley.  Late October is also a nice time to visit with cool, dry weather.
The accommodation:  World class resort in Banyan Tree Lijiang's luxurious villas, reflecting the rich fabric of Lijiang through their design and furnishings, and the famous Banyan Tree Spa.
The trekking:  Uniquely designed, less-traveled trails guided by experienced local guides to give a splendid experience of Lijiang area.  You can choose to camp and enjoy a unique natural surrounding.
Fund Raising Mechanism
Each participant will make a minimum donation of $50,000 to attend.  Donation may come from the participant, his/her sponsors, a corporate donation or a matching gift program.  The donation is tax-deductible.
Participants will also have to pay an event fee of $8,800 (exclusive of airfare), which is an excellent value for the activities and accommodation.  The event charge, on twin sharing basis, will cover expenses in LiJiang, and is not tax-deductible.  Additional fees apply for those selecting golf outing or the Impression LiJiang show.
In recognition of individual or corporate supporters, our Walk For Chalk 2007 patronage program accept donations of $100,000 ("Patron"), $200,000 ("Gold Sponsor") and $300,000 ("Platinum Sponsor").  Each donation will be acknowledged in all our event publications, and entitles the Patron/Sponsor to nominate one or two persons to participate in the Event.  The event charge will apply for each participant.
Itinerary
Date
Itinerary
Day 1

Oct. 27

(Sat)

Greeting at LiJiang Airport

Transfer from Airport to Banyan Tree Hotels & Resorts – LiJiang

Hotel registration

Welcome dinner at Banyan Tree Resort

Day 2

Oct. 28

(Sun)

Breakfast at hotel

Get to know LiJiang – Relaxing day tour:

1. Puji Temple – choose an activity:

a. Private blessing ceremony, tea & meditation

b. Short walk, Tai-chi lesson

2. Choose your activity for the afternoon:

a. LiJiang Old Town

b. "Impression LiJiang" Show.  Packed lunch en-route.  Fees apply.

Dinner at a Naxi village, sing, dance, bonfire & lots of fun

Day 3

Oct. 29

(Mon)

Breakfast at hotel

Excursion to Baoshan Stone City:

1. Pass through ancient villages, Jade Dragon Snow Mountain

2. Picnic lunch on arrival – choose an activity:

a.   Hike & camp – Hike along Golden Sand River, ascend from 1,800m to 2,500m. Dinner with local family. Overnight camp.

b.   Leisure walk – Easy hike around village, enjoy views of Golden Sand River, visit villager home.  Depart Baoshan Old Town to LiJiang.  Dinner at Qianxue Pavilion with bird's eye view of LiJiang Old Town.  Return to Banyan Tree Resort.

Day 4

Oct. 30

(Tue)

For "Hike & camp" group:

1. Breakfast at camp site, then depart for LiJiang

2. Visit a local school on return trip

For "Leisure walk" group:

1. Breakfast at hotel

2. Choose your activity:

a.   Visit Jade Dragon Snow Mountain.  Cable car to 4,000m level.  Trail along a less visited path offering spectacular alpine landscape views. A leisure one-hour walk.  Visit a local school on return trip.

b.   Golf.  Reservation upon your request.  Fees apply.

c.   Relax and enjoy Banyan Tree LiJiang.

Everyone returns to hotel around 6:30pm

Farewell dinner at Banyan Tree Resort

Day 5

Oct.31

(Wed)

Breakfast at hotel

Transfer to LiJiang airport
Note:
Accommodation in Banyan Tree LiJiang Resort for 4 nights, except on Day 3 for the "Hike & camp" group.
"Impression LiJiang" show information available at http://www.yx-lj.com/.
Itinerary details subject to change. Please visit www.chfaidsorphans.com for more details starting mid September.
WildChina, a leading travel specialist, operates all site visits. http://www.wildchina.com/.
Puji Temple
Puji Temple is the closest, functioning Buddhist temple to LiJiang, and 30 minutes hike from the Puji Village.  The Puji Village showcases the remote countryside life of Naxi people.  The Temple offers a quite surrounding for a private blessing ceremony, tea and meditation, while one may also summit the mountain (15 minutes) to enjoy a bird-eye view of the Temple and the Village.
LiJiang Old Town
Lijiang Old Town, located on the plateau 2,400 meter (7,874 feet) above sea level, has a history of more than 800 years.  This historic town was declared a UNESCO World Heritage Site in 19967 for its multi-ethnic charm, historical milieu and architectural landscape.  Reputed as the Venice of the Orient, the old town is built along the line of mountains and the flow of rivers, with almost 350 bridges and various canals.
The Old Town is renowned for its unique architecture, incorporating the styles of Han, Tibetan, Bai and other minorities; the meandering cobbled streets; the timber-and-tile structures with craved doors and painted windows; the willow trees surrounding almost each household as well as the natural aesthetics of the Naxi people and their way of life.  The picturesque, unsophisticated ancient town will definitely give you an unforgettable memory.
Baoshan Stone City
Built in the late 13th century (Yuen Dynasty), this town is most famous for its gigantic rocks.  Surrounded by three cliffs and the Golden Sand River, more than 100 families live on top of the largest rock.  The daily lives of the villagers evolve around rocks, with daily household items such as table, beds, water tanks and fire stove all carved out of big stones.
In the Naxi tongue, Baoshan Stone City is called "La Bai Lu Pan Wu". La Bai was the first local Naxi leader, who lives here. Lu Pan Wu means white stone village.  This remote village is sequestered on all sides by an impregnable cliff, with a small path serving as its only contact to the outside world.  The unique location of this secret village has helped to make it an impregnable fort over the years. This is an interesting and fun spot to visit, and it is fascinating to see the practicalities of life for the various groups of people living in this remote part of the world today.
Jade Dragon Snow Mountain
Jade Dragon Snow Mountain, consisting of 13 peaks, stretches a length of 35 kilometers (22 miles) and a width of 20 kilometers (13 miles).  The snow-covered and fog-enlaced mountain resembles a jade dragon lying in the clouds, and hence gets the name Jade Dragon Snow Mountain.
Jade Dragon Snow Mountain is a sanctuary for rare animals and wild plants.  Of the 13,000 kinds of plants in Yunnan, more than half of them can be found there.  There are 400 types of trees in 20 primeval forest communities, and more than 30 kinds of animals protected by the state.  Jade Dragon Snow Mountain is yet to be conquered by human, albeit mountaineering teams from the United States, Japan, China and other countries have tried.
Logistics
Transportation
Toyota Coasters will provide comfortable and smooth rides throughout the stay in LiJiang, superior to Higer or Jinlong buses typically used by other tour groups.
Dining
The opening and closing dinners will be held in Banyan Tree LiJiang's restaurants.  WildChina has selected local restaurants to provide the best ambience, authenticity, cleanliness and dining experience.
Hotel
Banyan Tree Lijiang opened in Spring 2006 was the first luxury resort in LiJiang with traces of Naxi culture to be found in the architecture of the roofs and courtyards.  The resort, located Northwest of Yunnan Province, 2,400 meters above sea level, in the middle reaches of the Yangtze River, occupies a total area of more than 400 sq m.  In addition to luxurious villa accommodation, the peaceful sanctuary of Banyan Tree Spa provides an escape to a realm of pampering and self renewal.
Project Partners
| | |
| --- | --- |
| | Banyan Tree Hotels & Resorts, the official hospitality host and sponsor , provides breakfast, opening & closing dinners and accommodation in LiJiang, Yunnan. |
Farrington American Express Travel, the official travel agent and sponsor, can help make air travel arrangement for participants in and outside of Hong Kong.

Website: http://www.amextravel.com.hk
WildChina, the official activity operator with extensive experience to deliver an unforgettable experience in LiJiang.

Website: http://www.wildchina.com/
| | |
| --- | --- |
| | |
| Group Photo at the Banyan Tree Resort | Camping in BoaShan Stone City |
| | |
| Visiting BoaShan Stone City | Visiting a local village school |
This post is also available in: Chinese (Traditional) Chinese (Simplified)