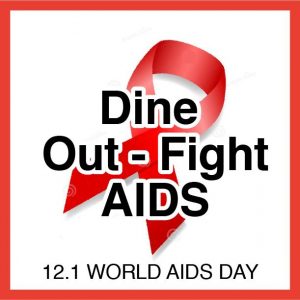 Chi Heng Foundation
"Dine Out – Fight AIDS" Campaign
in support of the World AIDS Day
World AIDS Day is held on 1 December each year and is an opportunity for people worldwide to unite in the fight against HIV, show their support for people living with HIV and to commemorate people who have died. World AIDS Day was the first ever global health day and the first one was held in 1988. To commemorate World AIDS Day on 1st December, a fund raising event named "Dine Out-Fight AIDS" is organized by Chi Heng Foundation (CHF) since 2015.
We are grateful to the following supporters who join this campaign and contribute part of their proceeds to Chi Heng.  Your every dining in these restuarants will benefit the children. Let's support the children by dining out for a good cause.
Participating Restaurants
(in alphabetical order)
​
For every order of below dishes, HK$12.1 per dish will be donated to CHF.
Wanchai Branch:         Assaggio Salad
Tsimshatsui Branch:    Beef Steak

Period:
1 December – 7 December 2016
Address:
Wanchai Branch:
6/F, Hong Kong Arts Centre,2 Harbour Road, Wanchai, Hong Kong
Tsimshatsui Branch
Shop 213A & 215, 2/F Mira Mall, 118 Nathan Road Tsim Sha Tsui, HKn
Booking/Enquiry:
(852) 2877 3999 Wanchai Branch
(852) 2315 5399 Tsimshatsui Branch

For every order of the "Fried Rice with Foie Gras, Barbecued Pork and Shrimp", HK$12.1 per dish will be donated to CHF.

| | |
| --- | --- |
| Period: | 1 December – 7 December 2016 |
| Address: | 3101, Podium Level 3, ifc mall, Central, Hong Kong |
| Booking/Enquiry: | (852) 2393 3933 |

For every order of the "Soy Cream Nara Topokki", HK$12.1 per dish will be donated to CHF.

Period:
1 December – 7 December 2016
Address:
Causeway Bay Branch
Shop 1302, 13/F, Times Square, 1 Matheson Street, Causeway Bay, Hong Kong
Sha Tin Branch
Shop 107, Level 1, Phase 1, New Town Plaza, Sha Tin, New Territories
Kowloon Tong Branch
Shop L1-33, Level 1, Festival Walk, 80 Tat Chee Avenue, Kowloon Tong, Kowloon
Kowloon Bay Branch
Shop F1, Level 1, Telford Plaza 1, 33 Wai Yip Street, Kowloon Bay, Kowloon
Mong Kok Branch
Shop No. 453, Level 4, MOKO, 193 Prince Edward Road West, Mong Kok, Kowloon
Tuen Mun Branch
Shop 3226, 3/F, Phase 1, Tuen Mun Town Plaza, 1 Tuen Shun Street, Tuen Mun, New Territories
Whampoa Branch
Shop G6B, G/F, Site 2, Whampoa Garden, Hung Hom, Kowloon, Hong Kong
Tsuen Wan
Shop Nos. 350-352, Level 3, Tsuen Wan Plaza, 4-30 Tai Pa Street, Tsuen Wan, New Territories
Tai Koo
Shop 136, Level 1, Cityplaza 2, 18 Taikoo Shing Road, Taikoo Shing Island East, Hong Kong
Booking/Enquiry:
(852) 2480 3666 Causeway Bay Branch
(852) 2608 0108 Sha Tin Branch
(852) 2392 1139 Kowloon Tong Branch
(852) 2777 3508 Kowloon Bay Branch
(852) 2320 6268 Mong Kok Branch
(852) 2408 3010 Tuen Mun Branch
(852) 2392 2398 Whampoa Branch
(852) 2777 3833 Tsuen Wan Branch
(852) 2191 2229 Tai Koo Branch

For every order of the "Marinated Boneless Chicken with Ground Ginger (Half)", HK$12.1 per dish will be donated to CHF.

Period:
1 December – 7 December 2016
Address:
Tsimshatsui Branch
Shop 504, L5, FoodLoft, Miramar Shopping Centre, 132 Nathan Road, Tsimshatsui, Kowloon
Central Branch 
2/F, New World Tower, 16-18 Queen's Road Central, Central, Hong Kong
Causeway Bay Branch
22/F, Lee Theatre, 99 Percival Street, Causeway Bay, Hong Kong
Booking/Enquiry:
(852) 2376 2882 Tsimshatsui Branch
(852) 2524 2012 Central Branch
(852) 2409 4822 Causeway Bay Branch

For every order of the "Mapo Tofu with Minced Beef", HK$12.1 per dish will be donated to CHF.

| | |
| --- | --- |
| Period: | 1 December – 7 December 2016 |
| Address: | Shop 1001B, 10/F, Times Square, 1 Matheson Street, Causeway Bay, Hong Kong |
| Booking/Enquiry: | (852) 2375 0800 |
This post is also available in: Chinese (Traditional) Chinese (Simplified)