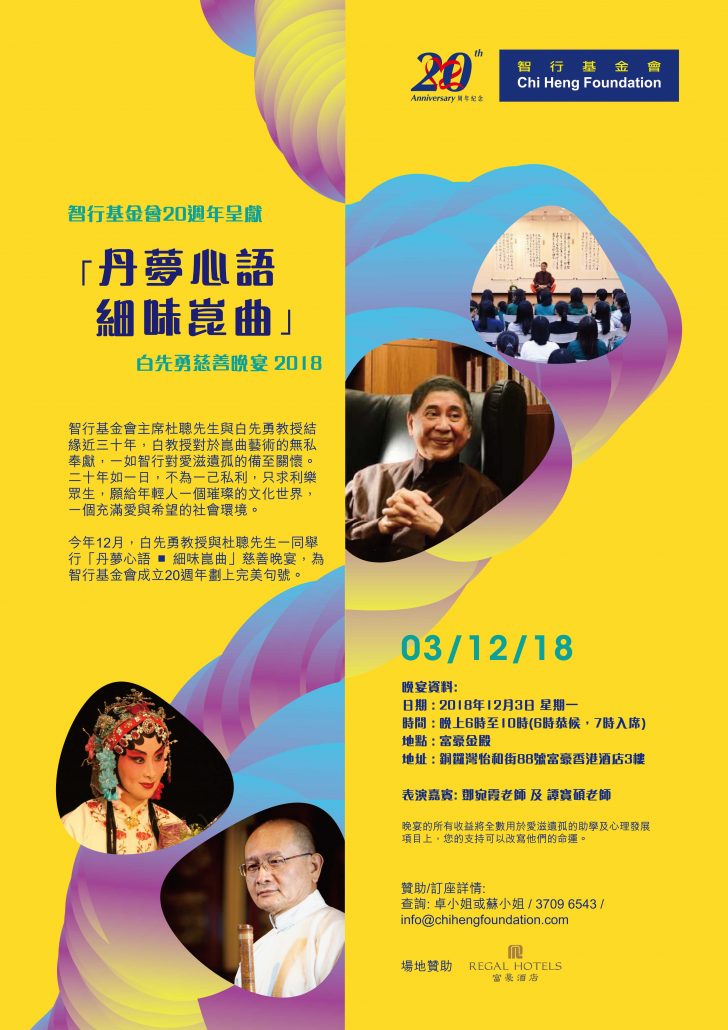 Chi Heng & Prof. Kenneth Hsien-yung Pai Charity Dinner 2018
We are pleased to invite you to a special dinner with Professor Kenneth Hsien-yung Pai, a world-renowned writer, in celebration of Chi Heng Foundation's 20th anniversary.
Professor Pai is a groundbreaking icon in contemporary literature, as well as a pioneer in promoting Kunqu opera and nurturing next generations. He began to work with the Suzhou Kunqu Opera Theater to produce the "youth version" of Peony Pavilion in 2003. Since then, the production has staged more than 200 performances in mainland China, Taiwan, Hong Kong, Macau, the United States, the United Kingdom, and Greece.
In the past 20 years, we, at Chi Heng Foundation, share the same vision as Professor Pai to educate the next generation in building a better future.
We are committed to help the AIDS orphans and AIDS-impacted children complete their education as well as provide dependable and comprehensive support to them.
On this unique evening, Chi Heng Foundation is honored to bring together Professor Pai and our guests.
Event Details
Date: 3 December 2018, Monday
Time: 6-10pm
Venue: Regal Palace
Address: 3/F, Regal Hongkong Hotel, 88 Yee Wo Street, Causeway Bay
* Vegetarian Menu will be served.
With the generous support of Regal Hotels International, 100% of your support will go direct to help the vulnerable children. Your generosity will allow Chi Heng to continue our work and help change the destiny of these children. Please refer to the following pages for more details on sponsorship options.
Yours sincerely
Chi Heng Foundation
This post is also available in: Chinese (Traditional) Chinese (Simplified)