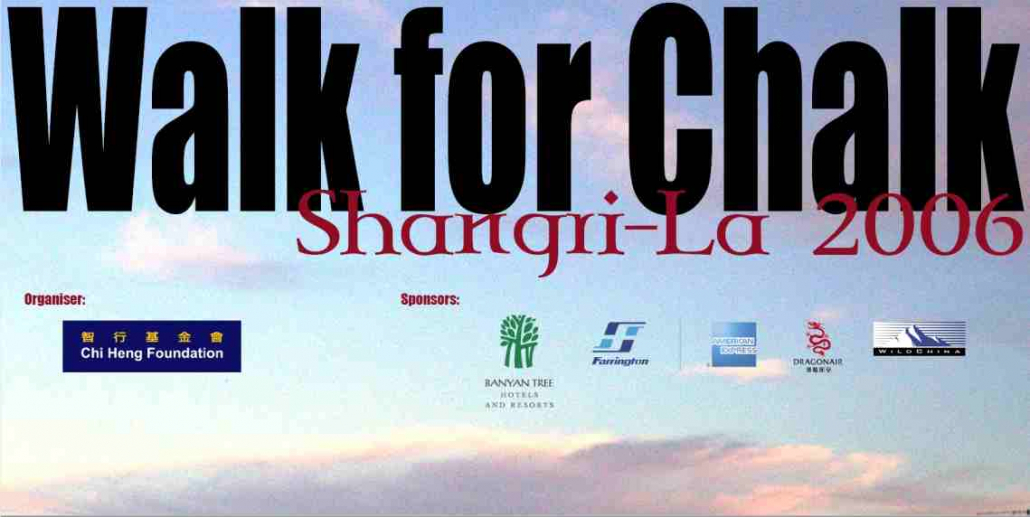 An inaugural signature fund raising event, held from 26 to 31 May, 2006, to raise funds for AIDS impacted children in China.
Objectives
to establish an inaugural signature fund raising event to raise fund exclusively for education related activities for AIDS-impacted children in China
to raise awareness of the AIDS situation in China, in particular the plight of AIDS orphans
to form a network of supporters who are interested in contributing to the cause.
Project Summary
This is an exclusive, by-invitation-only 6-day trip (including 2-day trekking journey) for up to 40 VIP guests and supporters of Chi Heng Foundation.
The setting: The journey will take place in the UNESCO World Heritage Site of the Lijiang old town and in the Tibetan area of Zhongdian (popularly known as the Shangri-la County). At 3,200 meters above sea level, the trek will take you to picturesque snow-capped mountains, mirror-like lakes, undulating meadows with exotic flowers and luxuriant grass.
The accommodation: world class resorts in Lijiang and Zhongdian, decorated in rich indigenous style, with ethnic cultural symbols, vibrant Tibetan colors and exquisitely woven Tibetan rugs and drapes.
The trekking: in scenic trails, guided by experienced local Tibetan guides and porters, accompanied by horses, evening bonfire in trekking camp site.
Fund Raising Mechanism
It is our aim to raise HK$2 million net from the event. Each participant will have to make a minimum donation of HK$50,000 to attend (either out of their own pocket, or through corporate donation / matching gift program).
Participants have to pay separately a participation fee of HK$6,200, which is the best offer package value of the trip, covering expenses from arrival at Lijiang to departure at Zhongdian.
Itinerary
Date
Itinerary
Day 1

26 May

(Fri)

Greeting at Lijiang Airport

Transfer from Lijiang Airport to Hotel

Hotel Registration

Dinner at local restaurant

Accommodation: Banyan Tree Lijiang

Day 2

27 May

(Sat)

Breakfast at Hotel

Full day Tour

Cable Car to Jade Dragon Snow Mountain 玉龍雪山
Yufeng Temple 玉峰寺
Black Dragon Pool 黑龍潭
Lijiang Old Town 麗江古城

Lunch and Dinner at local restaurant

Accommodation: Banyan Tree Lijiang

Day 3

28 May

(Sun)

Breakfast at Hotel

Coaches transfer to Zhongdian 中甸/Diqing 迪慶

Sightseeing for Tiger Leaping Gorge 虎跳峽, First Blend of the Yangtze River

Check in Hotel

Welcome Dinner at Hotel

Accommodation: Gyalthang Dzong Hotel

Day 4

29 May

(Mon)

Trekking Program organized by Wild China

Drive to Birong Gorge 碧融by 4 Wheel Drive
Picnic Lunch
Half Day Trekking (Horse stand by)

Dinner at Campsite, followed by Camp Fire Gathering

Accommodation: Campsite

Day 5

30 May

(Tue)

Day Trekking Program organized by Wild China

Breakfast at Campsite
Half Day Trekking (Horse stand by)
Drive back to hotel by 4 wheel Drive

Check in Hotel

Farewell Dinner – Tibetan Style Hotpot

Accommodation: BanyanTree Ringha

Day 6

31 May

(Wed)

Breakfast at Hotel

Depart from Hotel to Diqing Airport
Jade Dragon Snow Mountain 玉龍雪山
Jade Dragon Snow Mountain, consisting of 13 peaks, stretches a length of 35 kilometers (22 miles) and a width of 20 kilometers (13 miles). The snow-covered and fog-enlaced mountain resembles a jade dragon lying in the clouds, and hence gets the name Jade Dragon Snow Mountain.
Jade Dragon Snow Mountain is a sanctuary for rare animals and wild plants. Of the 13,000 kinds of plants in Yunnan, more than half of them can be found there. There are 400 types of trees in 20 primeval forest communities, and more than 30 kinds of animals protected by the state. From April to June, the 50 species of azalea turn the mountain into a riot of brilliant colors.
Jade Dragon Snow Mountain is yet to be conquered by human, albeit mountaineering teams from the United States, Japan, China, and other countries have tried.
Yufeng Temple 玉峰寺
Yufeng Temple, a lamasery at the southern foot of Jade Dragon Snow Mountain, was built in 1756 during the reign of Emperor Qianlong of the Qing Dynasty. The architectural style of the Temple is a combination of the Han, Bai and Tibetan nationalities.
Inside the temple, there is a famous camellia tree, named the First Tree in the World, which can bear 20,000 flowers. It is said that the tree was planted during the Ming Dynasty (1368-1644), long before the temple was built. The tree is in full blossomy in late spring and early summer and can bloom for more than 100 days with twenty thousand flowers bloom in 20 batches. If you stand near to the tree, you will find yourself plunge into an ocean of flowers. The view is magnificent.
Black Dragon Pool 黑龍潭
As the water of the pool is as green and lucid as jade, the pool is also named Yuquan or Jade Spring. The park of Black Dragon Pool, which was built in 1737 during the Qing Dynasty, is also called the Jade Spring Park (Yuquan Park). Surrounded on all sides by verdant trees, the park looks like a pearl in Yunnan plateau. There are many ancient architectures of the Naxi (also spelt Nakhi and Nahi) inside the Park.
Lijiang Old Town 麗江古城
Lijiang Old Town, located on the plateau 2,400 meter (7,874 feet) above see level, has a history of more than 800 years. This historic town was declared a UNESCO World Heritage Site in 1997 for its multi-ethnic charm, historical milieu and architectural landscape. Reputed as the Venice of the Orient, the old town is built along the line of mountains and the flow of rivers, with almost 350 bridges and various canals.
The Old Town is renowned for its unique architecture, incorporating the styles of Han, Tibetan, Bai and other minorities; the meandering cobbled streets; the timber-and-tile structures with craved doors and painted windows; the willow trees surrounding almost each household, as well as the natural aesthetics of the Naxi people and their way of life. The picturesque, unsophisticated ancient town will definitely give you an unforgettable memory.
Tiger Leaping Gorge 虎跳峽
Extending for 15 meters from Jade Dragon Snow Mountain in Lijiang to Haba Snow Mountain in Zhongdian, the Tiger Leaping Gorge, with a drop of 3,000 meters, is believed to the deepest gorge in the world.
The Gorge, containing 18 rapids, is naturally divided into three sections. The Upper Gorge, which is the narrowest section (only 30 meters wide), is the mouth of the fast flowing Jingsha River. A large rock, Tiger Leaping Rock, seems to be stranded there amid the billowing waves. Legend has it that in ancient times, a tiger used this rock as a stepping stone to leap across the gorge to escape capture. That is how the Gorge gets its name.
The river drops nearly 100 meters (330 feet) in the Middle Gorge. The rushing waters crash against grotesque shaped rocks, forming swirling whirlpools. In the Lower Gorge, the cliffs are even steeper and more dangerous. This section is acclaimed for being the best place to enjoy the awe-inspiring scene.
First Bend of Yangtze River 長江第一灣
The Yangtze River, coming down from Qinghai-Tibet Plateau, moves southeast until it comes to the Hengduan Mountain Range, where the unusual geological landscape force the River to make a sudden U turn and flows northeast.  This extraordinary turn, nearly180-degrees, creates beautiful and marvelous views that startle the imagination.
Drive
We will travel by 4-wheel drive. The road may be bumpy at times, but you will be rewarded with the rare vistas of Da Xue Mountain, unique rock formations and deep river valleys. We will drive over a 3,658 meter/12,000 foot high pass and if we are lucky, we can see some pink rhododendrons in bloom. WildChina botanical experts will escort the group to give us lively introductions to the plants we see along the way.
Birong Gorge 碧融
Birong Gorge, located on the Yunnan-Sichuan border, is one of The Nature Conservancy's five action sites in northwest Yunnan and a provincial level nature reserve. The drive to this limestone gorge, also known as Shangri-La Gorge, begins with views of forested hillsides, Tibetan villages and farmlands.
Trekking
When arrive at Birong Gorge (at roughly 2,743 meters/9,000 feet), we will leave the jeeps behind, pack our personal gear and follow the guide for a trek to our campsite. Most of the trek will be on flat trails along a crystal stream from the distant snow mountain.
Participants will be divided into two groups, the Active Group and the Leisure Group. The Active Group will set out first, with a slightly longer trek and their campsite will be further away from the entrance of the Gorge.
The Leisure Group will set out shortly after, with a shorter trek and their campsite will be closer to the entrance of the Gorge.
Campfire Gathering
Dinner will be served together at one campsite around a campfire. After dinner we will enjoy a lively evening singing and dancing party staged by our talented and friendly local Tibetan hosts.
Trekking on 30 May
The Active Group will explore further the stunning scenery in the valley, while the Leisure Group will have a slower pace and have more time to observe the beautiful flowers and wild plants in the pristine forest.
We meet at a sacred waterfall and then turn around for the campsite, where we break camp and pack for return trip to the entrance of the gorge. We enjoy a hearty lunch before we board our cars and drive back to Zhongdian.
Logistics
Transportation
Air-conditioned coaches are used to transfer participants from Lijiang Airport to Hotel, during the sight-seeing tour in Lijiang and when traveling from Lijiang to Zhongdian.
The trekking journey starts from Zhongdian. 4-wheel drives are used to navigate through the dirt and sometimes bumpy road from Zhongdian Hotel to Birong Gorge. For the comfort and safety of participants, each vehicle will accommodate three people.
Dining
In Lijiang: Local Restaurants.
The Tour Manager will pick the best restaurants for us. Apart from food and services, cleanliness of the place, the atmosphere and how authentic the restaurant is will be duly considered.
During trekking journey: When trekking, breakfast, picnic lunches, afternoon tea and dinner are all provided. All utensils are sterilized, drinking water boiled, and fresh vegetables and fruit treated to ensure hygiene. Fresh food is used to the maximum extent possible. The breakfast coffee is freshly brewed, not instant.  Some snack food will also be provided for the day's walk, but you may wish to supplement this with your own favorites to munch on. WildChina will bring a few chefs from the city to prepare food for our group.
Camping and Trekking
WildChina equipment includes: top quality three-person sleeping tents for every two persons, dining tent, cooking tent, toilet tent, folding aluminum chairs and tables for dining, and self-inflating air mattresses for cushioning the sleeping bags.
During the trek, you only need carry a light daypack, containing things you may need during the course of the day before reaching the campsite. For example, camera, sunscreen, drinking water, light trail food snacks, raingear, and warm jacket for temperature change. The other luggage and facilities can be carried by our facility cars and mules or left in the care of WildChina local operator.
There will be mules and horses on standby during the whole trekking.
WildChina provides boiled or bottled water throughout the trek. Water supply during this trip is unlimited. It is usually safe to drink bottled mineral water, but tap water in cities or towns is not safe for drinking. Because of the high altitude of Zhongdian, all participants should drink large amounts of fluids and do not overexert so as to avoid altitude sickness.
Hotels
Banyan Tree Lijiang
Banyan Tree Lijiang, which opens in Spring 2006, is the first luxury resort in Lijiang with traces of Naxi culture that can be found in the architecture of the roofs and courtyards. The Hotel, located Northwest of Yunnan Province, 2400 meters above sea level, in the middle reaches of the Yangtze River, occupies a total area of 400sq m and above. All bedrooms have views of the Jade Dragon Snow Mountain. http://banyantree.com/lijiang/
Gyalthang Dzong Hotel
Gyalthang is the Tibetan word for "Shangri-la". Gyalthang Dzong Hotel brings international standards of service to the Tibetan borders while maintaining the small and cosy scale of a boutique hotel. Each of the 47 rooms and suites are decorated in rich indigenous style, with ethnic cultural symbols, vibrant Tibetan colors and exquisitely woven Tibetan rugs and drapes.  http://coloursofangsana.com/gyalthang/index.htm
Banyan Tree Ringha
Banyan Tree Ringha features spacious Tibetan-style accommodations with modern facilities. The property offers 32 suite and lodges. Each features a smoky fireplace, wooden balcony that offers unparalleled valley or river views and handcrafted wooden bathtub. Every Suite and Lodge features a wooden balcony and a private terrace. The accommodations are created from authentic Tibetan farmhouses that have been relocated log by log to retain its original character. https://www.banyantree.com/en/china/ringha
Project Partners
Banyan Tree Hotels & Resorts the official hospitality host and sponsor, provides food and accommodation in LiJiang and ZhongDian Yunnan Province.

Website: http://www.banyantree.com
Farrington American Express Travel, the official travel agent and sponsor, handles all the on-the-ground logistics for participants and helps participants from outside of Hong Kong to make arrangement for their air tickets.

Website: http://www.amextravel.com.hk
WildChina, the official trekking tour operator and sponsor, guides participants to discover the dramatic landscapes, beautiful wildflowers, and rich Tibetan culture for which the Shangri-la region is renowned.

Website: http://www.wildchina.com/
| | |
| --- | --- |
| | |
| Group photo at Banyan Tree Hotel Lijiang | At Tiger Leaping Gorge |
| | |
| Group photo at Gyalthang Dzong Hotel before heading to Birong Gorge | A fleet of off-road vehicles is ready for the drive to Birong Gorge |
| | |
| Heading down the Birong Gorge trail with the local Tibetan hosts | Beautiful landscape at the Birong Gorge |
| | |
| At the campsite | Campfire gathering after dinner |
| | |
| Breakfast at the campsite | Visiting a local Tibetan primary school |
| | |
| Welcome dance by local school students | Mingling with Tibetan school students |
| | |
| Happy gathering with school children | School children preparing personalized souvenir for individual guest |
| | |
| Farewell Dinner at BanyanTree Ringha | Enjoying Tibetan Hotpot dinner |
This post is also available in: Chinese (Traditional) Chinese (Simplified)