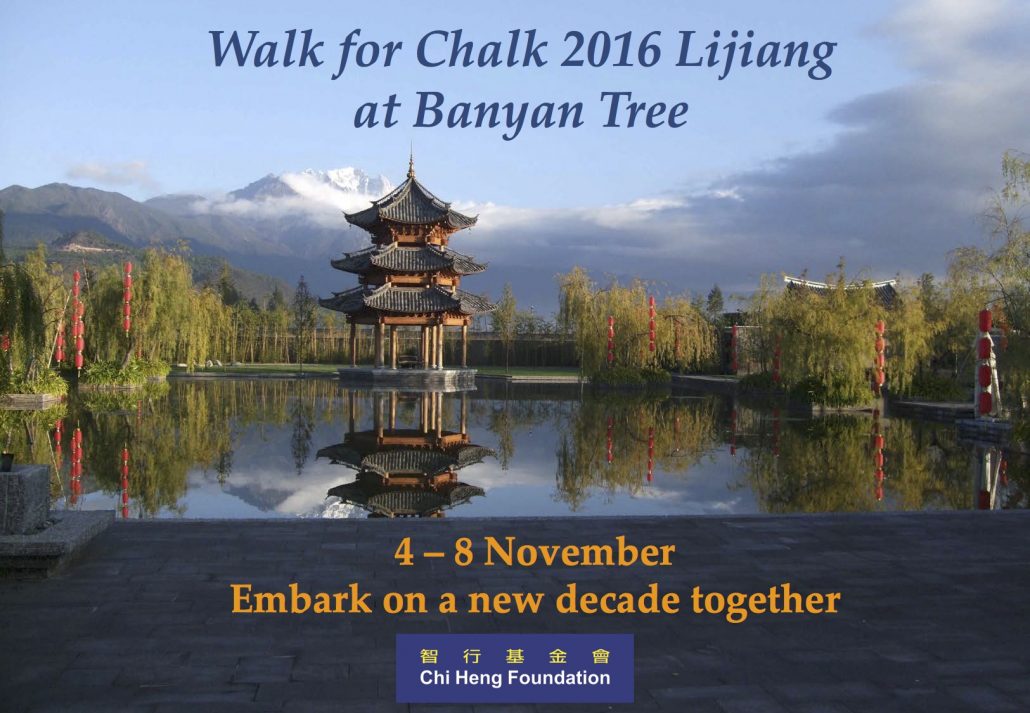 Dear Walk for Chalk (Chi Heng) supporters,
Hot off the press:  Explanatory notes and tools which help explain and promote Walk for Chalk 2016 Lijiang attached!!
This is the 10th Year !! We will revisit the beautiful, unpolluted Lijiang and stay at the awesome, exclusive Banyan Tree!!
Come interact in depth with and impact our high school and university students in a laughter and nature filled environment over the weekend Nov 4-8!!
Help us achieve the HK$5 million net education donation target (100% to the benefit of the children's education)!!  Your help in securing sponsors and donations will change the destiny of the +18,000 children we support.
Recently, one of our bachelor degree graduates received $1 million scholarship from a U.S. university to study in a doctorate program, skipping the master degree!!!!   Help enable more success stories of our AIDS impacted children!
Click here to view a short video about Chi Heng.
Need more information?  Please call Chi Heng Foundation at (852)2517 0564, or Patrick Poon at (852) 94222220 , or email [email protected]
See you in November, in Lijiang!
Chi Heng Foundation
WFC Organizing Committee
This post is also available in: Chinese (Traditional) Chinese (Simplified)