Strings of passion (2010/03/12 The Standard)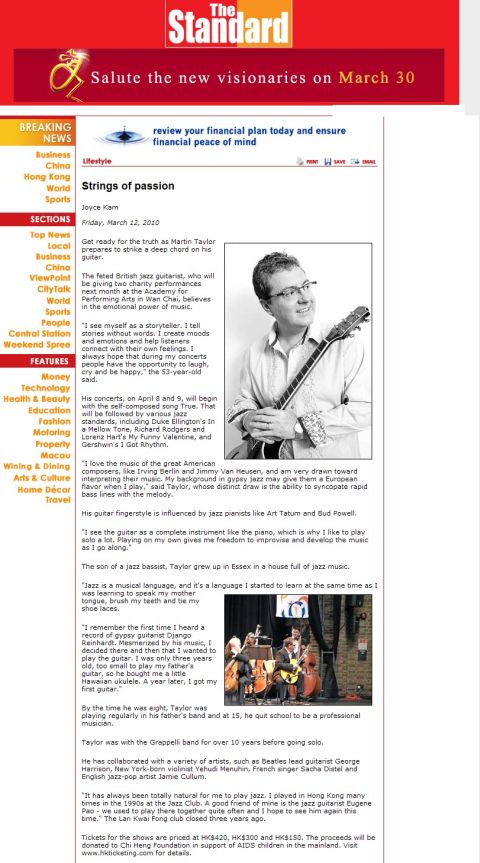 Get ready for the truth as Martin Taylor prepares to strike a deep chord on his guitar.
The feted British jazz guitarist, who will be giving two charity performances next month at the Academy for Performing Arts in Wan Chai, believes in the emotional power of music.
"I see myself as a storyteller. I tell stories without words.
I create moods and emotions and help listeners connect with their own feelings.
I always hope that during my concerts people have the opportunity to laugh, cry and be happy," the 53-yearold said.
His concerts, on April 8 and 9, will begin with the self-composed song True.
That will be followed by various jazz standards, including Duke Ellington's In a Mellow Tone, Richard Rodgers and Lorenz Hart's My Funny Valentine, and Gershwin's I Got Rhythm.
"I love the music of the great American composers, like Irving Berlin and Jimmy Van Heusen, and am very drawn toward interpreting their music.
My background in gypsy jazz may give them a European flavor when I play," said Taylor, whose distinct draw is the ability to syncopate rapid bass lines with the melody.
His guitar fingerstyle is influenced by jazz pianists like Art Tatum and Bud Powell.
"I see the guitar as a complete instrument like the piano, which is why I like to play solo a lot. Playing on my own gives me freedom to improvise and develop the music as I go along."
The son of a jazz bassist, Taylor grew up in Essex in a house full of jazz music.
"Jazz is a musical language, and it's a language I started to learn at the same time as I was learning to speak my mother tongue, brush my teeth and tie my shoe laces.
"I remember the first time I heard a record of gypsy guitarist Django Reinhardt. Mesmerized by his music, I decided there and then that I wanted to play the guitar. I was only three years old, too small to play my father's guitar, so he bought me a little Hawaiian ukulele. A year later, I got my first guitar."
By the time he was eight, Taylor was playing regularly in his father's band and at 15, he quit school to be a professional musician.
Taylor was with the Grappelli band for over 10 years before going solo.
He has collaborated with a variety of artists, such as Beatles lead guitarist George Harrison, New York-born violinist Yehudi Menuhin, French singer Sacha Distel and English jazz-pop artist Jamie Cullum.
"It has always been totally natural for me to play jazz. I played in Hong Kong many times in the 1990s at the Jazz Club.
A good friend of mine is the jazz guitarist Eugene Pao – we used to play there together quite often and I hope to see him again this time." The Lan Kwai Fong club closed three years ago.
Tickets for the shows are priced at HK$420, HK$300 and HK$150. The proceeds will be donated to Chi Heng Foundation in support of AIDS children in the mainland. Visit www.hkticketing.com for details.
This post is also available in: Chinese (Traditional) Chinese (Simplified)