ANNOUNCEMENT OF RESCHEDULED CHARITY CONCERT
Good news! The charity concert "Chi Heng With Love Charity Concert" was previously announced to be held on 5th December, 2020 has been rescheduled at 3:00p.m. on 20th March, 2021 (Saturday), at The Hong Kong Jockey Club Amphitheatre, The Hong Kong Academy for Performing Arts.
The latest admission tickets will be sent out in batches. Please be reminded that admission is by ticket only.
Thank you for your continued support and understanding.
*****************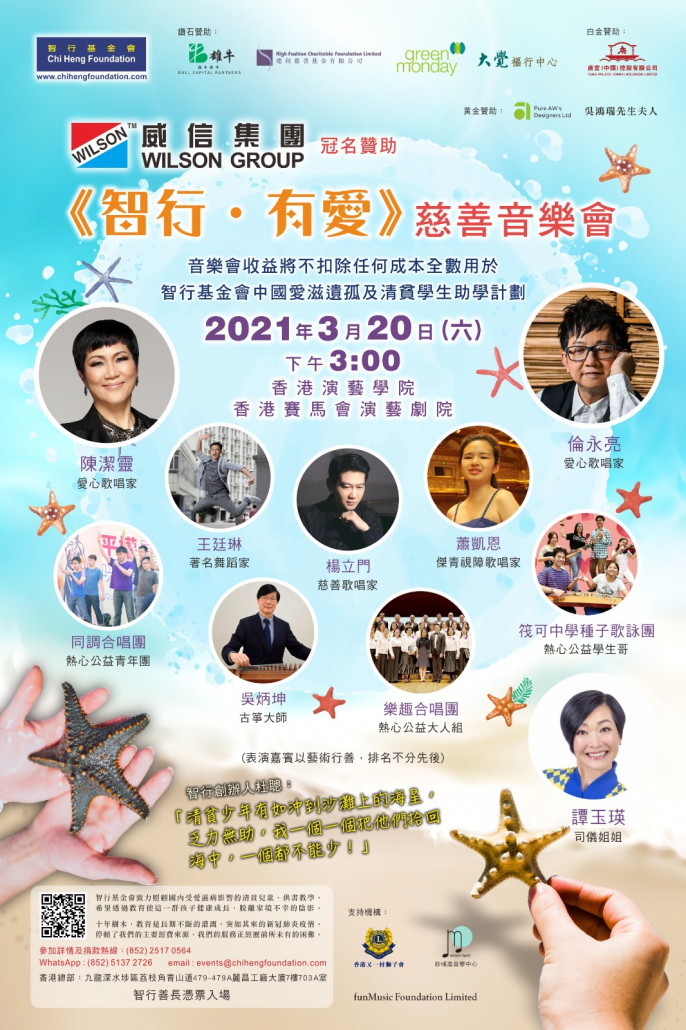 2020是特殊與艱難的一年,各行各業都受到不同程度的衝擊,智行基金會也不例外,籌款活動受到極大影響,面臨著嚴峻的考驗,使得本來已經不容易的籌款工作更見艱巨。
然而智行並沒有因此而退縮,依然有條不紊的維持著良好的運轉,堅守公益理念,不懈前行,為了不讓一個孩子輟學掉隊,無書可讀;也不讓一個孩子心靈困頓,無處傾訴。
幸得各方善心人士的鼎力支持,智行基金會將舉辦一場慈善音樂會,為處於困境的國內愛滋遺孤及清貧學生籌募教育經費。
較早前因應疫情而延期的《智行 ‧ 有愛》慈善音樂會,將原定由2020年12月5日更改至2021年3月20日舉行。在此感謝所有支持智行的善心人士,讓是次音樂會能再度順利籌辦。
承蒙各位善長支持,音樂會門票已經全部售罄, 最新門票將分批陸續寄出,敬請屆時憑票入場。
音樂會收益將不扣除任何成本,全數用於中國愛滋遺孤及清貧學生助學及心理發展項目上,我們在此衷心感謝所有義務籌委會成員、贊助商及演出嘉賓團體,或許未來公益的道路仍會荊棘滿途,但感恩沿途有您,智行基金會得以在慈善的道路上堅定前行!
音樂會詳情:
日期   : 2021年3月20日(星期六)
時間   : 下午3時至6時 (2時45分進場)
地點 : 香港演藝學院賽馬會演藝劇院
地址 : 香港灣仔告士打道一號
表演嘉賓:
愛心歌唱家陳潔靈小姐, 倫永亮先生
著名舞蹈家王廷琳先生
慈善歌唱家楊立門先生
傑青視障歌唱家 蕭凱恩小姐
古箏大師 吳炳坤先生
其他熱心公益表演團隊
同調合唱團、樂趣合唱團及筏可中學種子歌詠團
司儀:譚玉瑛姐姐
This post is also available in: Chinese (Traditional) Chinese (Simplified)