An online fundraising event is hosted by Chi Heng Foundation Canada and also co-hosted by Green Monday and OMN!PORK, for the benefit of AIDS-impacted orphans and other lesser privileged children in China.
With considerations of the epidemic restriction in social distancing, the 14th annual Vegetarian Charity Dinner Event will be held online for the first time, with a series of exciting online activities.
Please come join us in the drive to support the education of these children in China.
Date: March 22 to May 9, 2021
Organizer: Chi Heng Foundation Canada (Vancouver)
Co-host: Green Monday & OMN!PORK
Online Event Website:www.givergy.ca/chiheng-plantbased
See you online starting on March 22 (Vancouver time)!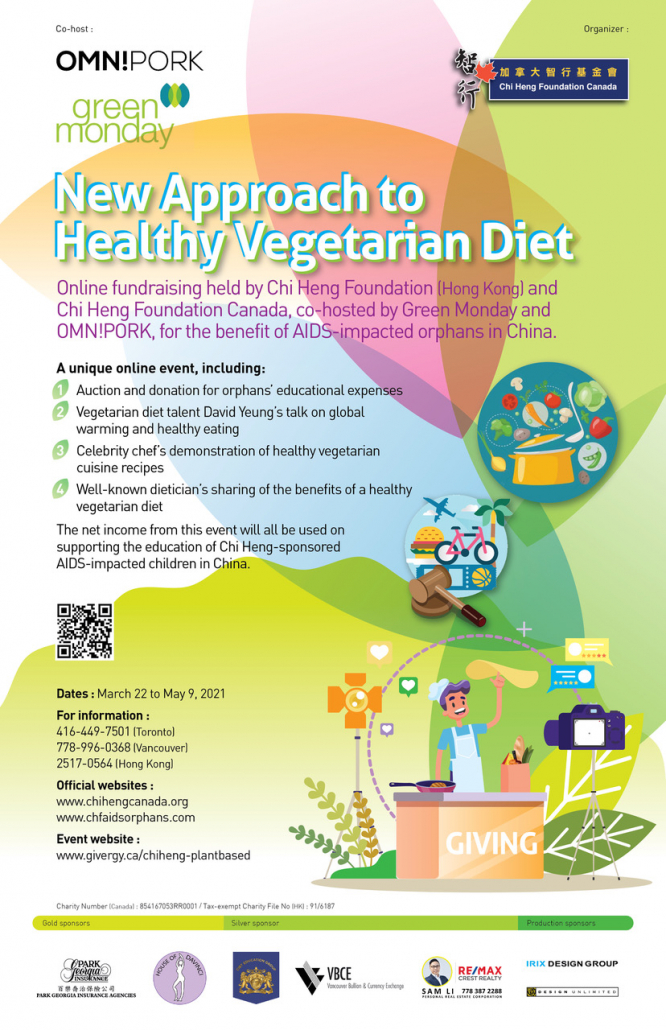 How to help:
Please support our "New Approach to Healthy Vegetarian Diet" online fundraising event, giving an education to the lesser privileged children in China.
Click here to submit an On-line Donation Form (by Cheque, Direct Deposit, PayMe, AliPay HK, PayPal or Credit Card Payment).
Click here to download the Donation Form (in pdf format, fillable with Acrobat Reader).
This post is also available in: Chinese (Traditional) Chinese (Simplified)