A higher calling
(2009/07/30 China Daily)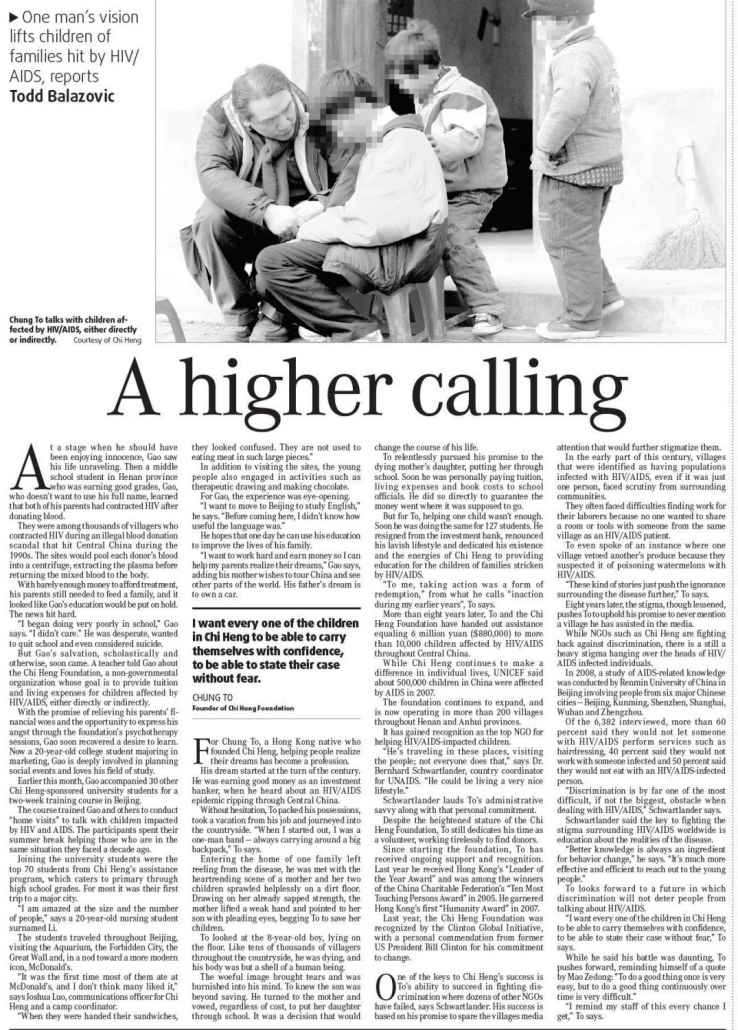 One man's vision lifts children of families hit by HIV/AIDS, reportsTodd Balazovic
At a stage when he should have been enjoying innocence, Gao saw his life unraveling. Then a middle school student in Henan province who was earning good grades, Gao, who doesn't want to use his full name, learned that both of his parents had contracted HIV after donating blood.
They were among thousands of villagers who contracted HIV during an illegal blood donation scandal that hit Central China during the 1990s.
The sites would pool each donor's blood into a centrifuge, extracting the plasma before returning the mixed blood to the body.
With barely enough money to afford treatment, his parents still needed to feed a family, and it looked like Gao's education would be put on hold. The news hit hard.
"I began doing very poorly in school," Gao says. "I didn't care." He was desperate, wanted to quit school and even considered suicide.
But Gao's salvation, scholastically and otherwise, soon came. A teacher told Gao about the Chi Heng Foundation, a non-governmental organization whose goal is to provide tuition and living expenses for children affected by HIV/AIDS, either directly or indirectly.
With the promise of relieving his parents' financial woes and the opportunity to express his angst through the foundation's psychotherapy sessions, Gao soon recovered a desire to learn.
Now a 20-year-old college student majoring in marketing, Gao is deeply involved in planning social events and loves his field of study.
Earlier this month, Gao accompanied 30 other Chi Heng -sponsored university students for a two-week training course in Beijing.
The course trained Gao and others to conduct "home visits" to talk with children impacted by HIV and AIDS. The participants spent their summer break helping those who are in the same situation they faced a decade ago.
Joining the university students were the top 70 students from Chi Heng's assistance program, which caters to primary through high school grades. For most it was their first trip to a major city.
"I am amazed at the size and the number of people," says a 20-year-old nursing student surnamed Li.
The students traveled throughout Beijing, visiting the Aquarium, the Forbidden City, the Great Wall and, in a nod toward a more modern icon, McDonald's.
"It was the first time most of them ate at McDonald's, and I don't think many liked it," says Joshua Luo, communications officer for Chi Heng and a camp coordinator.
"When they were handed their sandwiches, they looked confused. They are not used to eating meat in such large pieces."
In addition to visiting the sites, the young people also engaged in activities such as therapeutic drawing and making chocolate.
For Gao, the experience was eye-opening.
"I want to move to Beijing to study English," he says. "Before coming here, I didn't know how useful the language was."
He hopes that one day he can use his education to improve the lives of his family.
"I want to work hard and earn money so I can help my parents realize their dreams," Gao says, adding his mother wishes to tour China and see other parts of the world. His father's dream is to own a car.
For Chung To, a Hong Kong native who founded Chi Heng, helping people realize their dreams has become a profession
His dream started at the turn of the century. He was earning good money as an investment banker, when he heard about an HIV/AIDS epidemic ripping through Central China.
Without hesitation, To packed his possessions, took a vacation from his job and journeyed into the countryside. "When I started out, I was a one-man band — always carrying around a big backpack," To says.
Entering the home of one family left reeling from the disease, he was met with the heartrending scene of a mother and her two children sprawled helplessly on a dirt floor.
Drawing on her already sapped strength, the mother lifted a weak hand and pointed to her son with pleading eyes, begging To to save her children.
To looked at the 8-year-old boy, lying on the floor. Like tens of thousands of villagers throughout the countryside, he was dying, and his body was but a shell of a human being.
The woeful image brought tears and was burnished into his mind. To knew the son was beyond saving. He turned to the mother and vowed, regardless of cost, to put her daughter through school. It was a decision that would change the course of his life.
To relentlessly pursued his promise to the dying mother's daughter, putting her through school. Soon he was personally paying tuition, living expenses and book costs to school officials. He did so directly to guarantee the money went where it was supposed to go.
But for To, helping one child wasn't enough. Soon he was doing the same for 127 students. He resigned from the investment bank, renounced his lavish lifestyle and dedicated his existence and the energies of Chi Heng to providing education for the children of families stricken by HIV/AIDS.
"To me, taking action was a form of redemption," from what he calls "inaction during my earlier years", To says.
More than eight years later, To and the Chi Heng Foundation have handed out assistance equaling 6 million yuan ($880,000) to more than 10,000 children affected by HIV/AIDS throughout Central China.
While Chi Heng continues to make a difference in individual lives, UNICEF said about 500,000 children in China were affected by AIDS in 2007.
The foundation continues to expand, and is now operating in more than 200 villages throughout Henan and Anhui provinces.
It has gained recognition as the top NGO for helping HIV/AIDS-impacted children.
"He's traveling in these places, visiting the people; not everyone does that," says Dr. Bernhard Schwartlander, country coordinator for UNAIDS. "He could be living a very nice lifestyle."
Schwartlander lauds To's administrative savvy along with that personal commitment.
Despite the heightened stature of the Chi Heng Foundation, To still dedicates his time as a volunteer, working tirelessly to find donors.
Since starting the foundation, To has received ongoing support and recognition. Last year he received Hong Kong's "Leader of the Year Award" and was among the winners of the China Charitable Federation's "Ten Most Touching Persons Award" in 2005. He garnered Hong Kong's first "Humanity Award" in 2007.
Last year, the Chi Heng Foundation was recognized by the Clinton Global Initiative, with a personal commendation from former US President Bill Clinton for his commitment to change.
One of the keys to Chi Heng's success is To's ability to succeed in fighting discrimination where dozens of other NGOs have failed, says Schwartlander.
His success is based on his promise to spare the villages media attention that would further stigmatize them.
In the early part of this century, villages that were identified as having populations infected with HIV/AIDS, even if it was just one person, faced scrutiny from surrounding communities.
They often faced difficulties finding work for their laborers because no one wanted to share a room or tools with someone from the same village as an HIV/AIDS patient.
To even spoke of an instance where one village vetoed another's produce because they suspected it of poisoning watermelons with HIV/AIDS.
"These kind of stories just push the ignorance surrounding the disease further," To says.Eight years later, the stigma, though lessened, pushes To to uphold his promise to never mention a village he has assisted in the media.
While NGOs such as Chi Heng are fighting back against discrimination, there is a still a heavy stigma hanging over the heads of HIV/AIDS infected individuals.
In 2008, a study of AIDS-related knowledge was conducted by Renmin University of China in Beijing involving people from six major Chinese cities — Beijing, Kunming, Shenzhen, Shanghai, Wuhan and Zhengzhou. Of the 6,382 interviewed, more than 60 percent said they would not let someone with HIV/AIDS perform services such as hairdressing, 40 percent said they would not work with someone infected and 50 percent said they would not eat with an HIV/AIDS-infected person.
"Discrimination is by far one of the most difficult, if not the biggest, obstacle when dealing with HIV/AIDS," Schwartlander says.
Schwartlander said the key to fighting the stigma surrounding HIV/AIDS worldwide is education about the realities of the disease.
"Better knowledge is always an ingredient for behavior change," he says. "It's much more effective and efficient to reach out to the young people."
To looks forward to a future in which discrimination will not deter people from talking about HIV/AIDS.
"I want every one of the children in Chi Heng to be able to carry themselves with confidence, to be able to state their case without fear," To says.
While he said his battle was daunting, To pushes forward, reminding himself of a quote by Mao Zedong: "To do a good thing once is very easy, but to do a good thing continuously over time is very difficult."
"I remind my staff of this every chance I get," To says.
I want every one of the children in Chi Heng to be able to carry themselves with confidence, to be able to state their case without fear.
Chung To
Founder of Chi Heng Foundation
This post is also available in: Chinese (Traditional) Chinese (Simplified)