New York 'mural kings' leave their mark for a worthy cause
(2009/11/05 SCMP)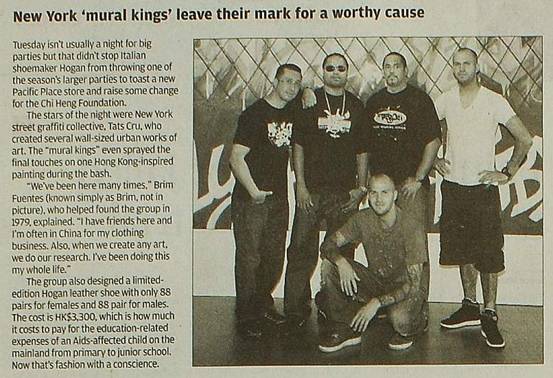 Tuesday isn't usually a night for big parties but that didn't stop Italian shoemaker Hogan from throwing one of the season's larger parties to toast a new Pacific Place store and raise some change for the Chi Heng Foundation.
The stars of the night were New York street graffiti collective, Tats Cru, who created several wall-sized urban works of art.
The "mural kings" even sprayed the final touches on one Hong Kong-inspired painting during the bash.
"We've been here many times," Brim Fuentes (known simply as Brim, not in picture), who helped found the group in 1979, explained.
"I have friends here and I'm often in China for my clothing business. Also, when we create any art, we do our research. I've been doing this my whole life."
The group also designed a limited-edition Hogan leather shoe with only 88 pairs for females and 88 pair for males.
The cost is HK$3,300, which is how much it costs to pay for the education-related expenses of an Aids-affected child on the mainland from primary to junior school. Now that's fashion with a conscience.
This post is also available in: Chinese (Traditional) Chinese (Simplified)