Trey Lee and Colleen Lee Perform in Support of the Chi Heng Foundation
(2009/11/01 Tatler Hong Kong)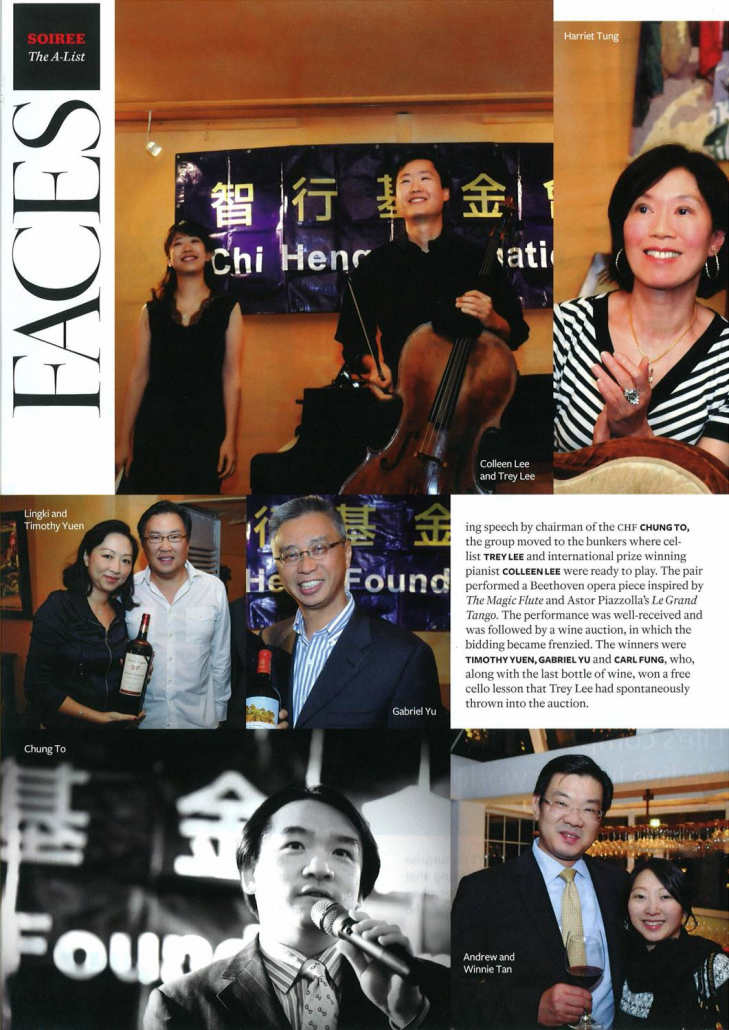 A group of warm-hearted supporters gathered for a meaningful evening to raise funds for the Chi Heng Foundation (CHF), a registered charity that offers care and support for AIDS-impacted children in China.
The evening began with guests arriving at a cozy candle-lit cocktail in the conservatory where a light buffet was being served.
Familiar faces amongst the crowd were mother and daughter, Harriet Tung and Leigh Tung-Chou, Janice Choi, Esther Ma and Taeko Millet.
Following a short welcoming speech by chairman of the CHF Chung To, the group moved to the bunkers where cellist Trey Lee and international prize winning pianist Colleen Lee were ready to play.
The pair performed a Beethoven opera piece inspired by The Magic Flute and Astor Piazzolla's Le Grand Tango.
The performance was well-received and was followed by a wine auction, in which the bidding became frenzied.
The winners were Timothy Yuen, Gabriel Yu and Carl Fung, who, along with the last bottle of wine, won a free cello lesson that Trey Lee had spontaneously thrown into the auction.
This post is also available in: Chinese (Traditional) Chinese (Simplified)